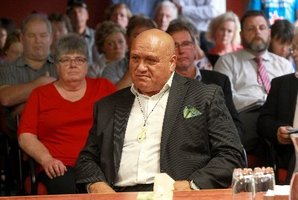 The Hawke's Bay District Health Board has denied an emotionally charged request to continue funding for a specialised diabetes service.
The board recently cancelled Dr Janet Titchener's contract to treat patients and educate clinicians, saying the service - which cost $150,000 a year - was not good value for money and supplementary, rather than an alternative, to existing services.
Lobby group Put Patients First asked the board to extend Dr Titchener's contract to allow for consultation and a patient survey, allow an independent review of the financial value of her services compared with others in Hawke's Bay and look for a way to extend her treatment model.
A deputation of about 40 from the group made a presentation at the board's monthly meeting yesterday starting with a video montage of patient stories - some in tears - praising Dr Titchener's diabetes service.
Hastings district councillor Henare O'Keefe was group spokesman for the presentation.
He said the qualities of the service could not be measured in management terms.
"Where is the compassion, where is the love, where is the patience, where is the tolerance?" He urged the board to "let the mother and father within you be the judge".
Diabetes patient and former member of a diabetes advisory committee, Erena Tomoana, said the current system of diabetes care was "in desperate need of an alternative approach".
"I found Janet and have been a strong advocate for patient-centred care and self-management since," she said.
Maori diabetes statistics in Hawke's Bay were well below health targets, she said.
"The DHB service is inaccessible and lacks sensitivity and provision for the cultural and personal needs of those patients. I am Maori and have been a patient of Janet. Her approach has so many parallels with what works for us and I know that she can help bridge that gap.
"If the DHB is truly committed to reducing inequalities and raising wellbeing and health outcomes then you need to ask us, you need to listen to what we are telling you, you need to stop deciding what's best for us."
Board chairman Kevin Atkinson said the board unanimously supported management's decision not to renew the contract.
He said the presentation had caused "quite a reflection of where we are".
"To me it emphasises how important the clinical pathways are for our care, as a community and as a health service," he said.
"I would like to reassure the whole of our community that our diabetes service in Hawke's Bay is among the best in the country and will improve better as we develop our clinical pathways into the future."
A care pathway would be fast-tracked that would provide the same service as Dr Titchener's, he said.
"What we've got to achieve, hopefully through this pathway work, is not a single Janet out there but a whole lot of primary care clinicians - GPs and practice nurses - working to achieve the results that you have received through her service."
Put Patients First did not respond to requests for comment.