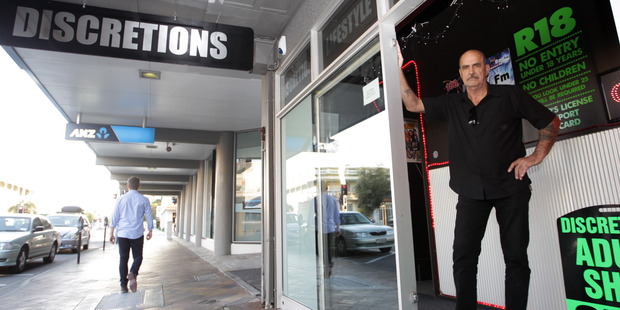 The owner of a synthetic cannabis-selling store is offering a $1000 reward for the apprehension of a man who robbed the shop and held a knife to his employee's throat.
Just before 2pm on Monday a man entered Discretions Lifestyle Boutique on Karamu Rd North and brandished a knife at the female shopkeeper, who handed over about 20 packets of synthetic cannabis and $500 cash.
The man fled, pursued by the shopkeeper and two members of the public who also gave chase.
He escaped west down Heretaunga St and on to Russell St towards the Hastings District Library in Civic Square, where members of the Hastings District Council's City Assist patrols also gave chase but lost him.
Discretions Lifestyle Boutique owner Gordon Arcus was hopeful his reward would result in the arrest of the offender.
"He held a knife to her throat, my concern is with [the shop attendant] right now, but I'm hoping that my reward will get people talking.
"She is a little shaken up but otherwise okay and wants to return to work."
Hastings District councillor Sandra Hazlehurst said it was just the beginning of more legal high-targeted crime.
"It's certainly opportunist, they are watching those stores. At least this time the City Assist patrol was able to chase them down the street," she said.
Offenders were targeting the stores because they knew they sold large amounts of legal highs and carried cash, she said.
"I just hope the MPs are sitting up and taking notice of the concern expressed from towns all across New Zealand ... the crime as a result of these drugs is a real worry."
When asked by Hawke's Bay Today if legal high retailers were becoming a target for violent crimes, Mr Arcus said: "We don't get any more or less [robberies] than service stations or liquor stores." The violent nature of the robbery would not deter him from continuing to sell legal highs.
Last month a female cashier at Adult Selections in Hastings was the victim of an aggravated robbery. In that instance, police said a pair of hooded men walked into the Heretaunga St shop, threatened the lone employee with a screwdriver and took cash and legal highs.
Before the incident, the businessman placed "precautionary" signs at the entrance to his store indicating no legal highs were kept overnight on the premises.
Detective Rob Parker said police completed a scene examination at Discretions Lifestyle Boutique on Monday and interviewed the shop attendant and witnesses but were seeking further information from the public, including the two unidentified men who chased the offender from Karamu Rd.
"These two men apparently chased the offender for some distance and may well be able to provide us with some valuable information. I'd urge them to contact us. Likewise, we would like to speak to anybody else who saw anything.
"Obviously it's a busy part of town and we would appreciate any assistance the public can provide with this investigation."
Hastings City Business Association manager Susan McDade said any attack with a weapon was "scary".
"It's always a concern when this type of crime happens in the CBD and the retailers are concerned - it does appear legal high stockists are being targeted."
A police spokeswoman said there was no indication Monday's robbery was gang-related.
"There have only been two robberies in Hawke's Bay since the new legislation came into effect and they are likely to be random."