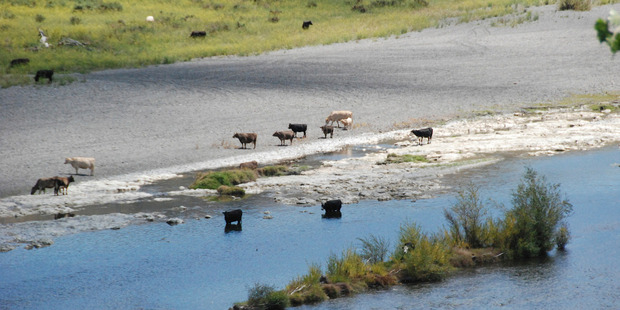 The problem of wandering cows fouling Hawke's Bay's rivers is an issue Tom Belford has in his sights ... and in his camera lens.
The Hawke's Bay regional councillor is using photographic evidence to bring the issue to the attention of fellow councillors.
Over the weekend he emailed councillors and media a picture of the latest culprits - a herd wading in the Tukituki River near Red Bridge, downstream from Waimarama Rd, south of Havelock North.
Mr Belford has previously used his BayBuzz blog to post pictures of offending stock, and to take a swipe at his own council over the issue.
A February 7 post on the topic was headlined: "More bovine bathers continue to elude Regional Council".
"God help us if land use intensification brings more cows to Hawke's Bay," he wrote in the post.
"The regional council can't keep track of the ones we have already."
Concerns about the region's rivers being polluted by stock are not new. The issue was raised at the regional council last year and conditions designed to address the problem have been written into the council's proposed Plan Change 6, a set of environmental rules for the Tukituki river catchment area currently being considered by a board of inquiry that is also weighing up the Ruataniwha Dam proposal.
The council also has a three-year, $109,000 riverside fencing programme to address the issue.
Fellow councillor Rick Barker responded to Mr Belford's email on Saturday saying he had previously raised the issue and been assured it had been addressed.
"It appears that this is not correct on every occasion," he wrote in an email.
"If this [latest] event is the result of an oversight or fence failure we need to have it fixed. Should it be a regular event then we should have a conversation about it."