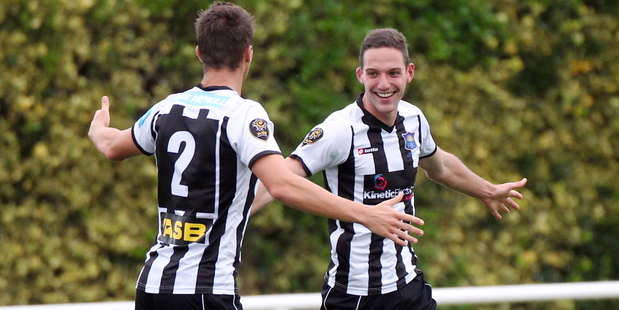 TAB wasn't prepared to cough up the odds on the soccer match until this morning when contacted last night but coach Chris Greatholder reckons it'll struggle to separate the two teams.
"It'll be an intriguing contest. It might come down to individual battles," Greatholder said before Kinetic Electrical Hawke's Bay United host Waitakere United in Napier tomorrow.
Bay United are perched precariously on the third rung, a point above Waitakere in ASB Premiership competition with three rounds to go before the playoffs.
That makes it a tantalising treat for the Bluewater Stadium faithful in the 2pm kickoff, considering the O-League giants seem to be coming out of a premiership slumber after pipping Auckland City 1-0 at Fred Taylor Park.
Throw into the mix forecast for rain and there's credence in Greatholder's assertion that individualism may be the factor in who adapts first for two sides who possess almost identical constitutions.
Bay captain Bill Robertson will relish the return of Dave Mulligan from suspension in the engine that stuttered and spluttered a little on Waitangi Day in the first-round, catch-up match against Wanderers Soccer Club in Park Island, which the hosts won 1-0 somewhat unconvincingly.
Striker Sean Lovemore and his electric pace has traded places with Mulligan after he accumulated his fourth yellow card on Thursday.
"Sean's good ... but he's not as effective as [Jamie] Mason and [Sean] Morris who have the ability to hold up players.
"We can live without Sean [Lovemore] because we'll be equally effective with the other players," Greatholder said.
Regrettably the season may be over for teenager Nathanael Hailemariam who will undergo a scan for an ankle stress facture picked up in the 3-2 win against WaiBOP Utd here when he hobbled off after a few minutes.
"Natty's had a bit of bad luck with injuries so it gets all tougher for us but it's also a good opportunity for the other boys to put their hand up."
One who did on Thursday was swiss knife Harley Rodeka. Not only did the winger-cum-defender-cum-striker find a starting perch but he got the only goal against Wanderers.
A frustrated Rodeka was among fringe players rapping their knuckles raw, wondering why they out of the playing equation.
In round five, Waitakere held the Bay 2-2 at Fred Taylor Park.
HB UTD: 1 Richard Gillespie (GK), 2 Aaron Jones, 4 Ross Haviland, 5 Bill Robertson, 6 Tom Biss, 7 David Mulligan, 8 Matt Hastings, 10 Tomas Mosquera, 13 Jamie Mason, 16 Danny Wilson, 17 Fergus Neil, 18 Harley Rodeka, 19 Sean Morris, 21 Grant Robson, 22 Harry Edge, 26 Matt Gould (RGK).
Coach: Chris Greatholder.
WAITAKERE UTD: 1 Danny Robinson (GK), 3 Alec Solomons, 4 Tim Myers, 7 Jordan Lowdon, 8 Chad Coombes, 10 Richie Cardozo, 11 Ian Hogg, 12 Sam Mathews, 13 Sansern Limwatthana, 14 Maksim Manko, 16 Tristan Prattley, 17 Jake Butler, 19 Dylan Stansfield, 21 Allan Pearce, 26 Harshae Raniga.
Coaches: Paul Temple/Brian Shelley.