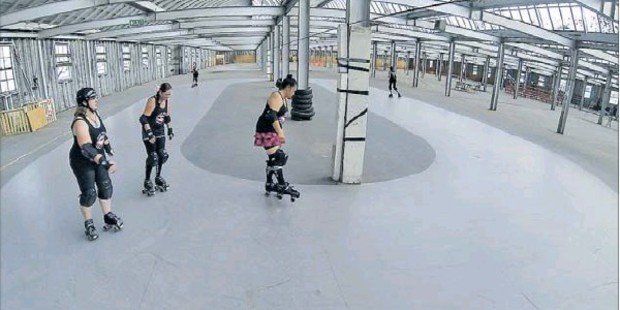 Hawke's Bay's premier roller derby team is on the look-out for a new venue with the demolition of their building just around the corner.
The Bay City Rollers have been training in the old Williams and Kettle building in Ahuriri, Napier, for the past six years but yesterday they took their last lap at the venue before handing over the keys.
Now without a permanent home, the club is searching for a new venue in which to prepare for matches and train their sizeable troupe of new members.
"We've been lucky to have had access to such a large area since our club formed in 2009," team member and club chairwoman Tanya Yates-Finch said.
"All we want to do is skate, now we're expending all our energy on the search for new premises."
The Hawke's Bay club boasts a roll of 52 full members and has an intake of up to 35 trainees starting "fresh-meat" training in February.
"We have two competing teams, and our girls range from 18 to 45," she said.
"We train hard and fast, and we just want to get on and play derby!"
Ms Yates-Finch, one of the original members of the Bay City Rollers, said the old Williams and Kettle building had been earmarked for demolition for some time, but only in the past few months were the plans set in stone and the women given the order to put their skates on and roll on out for good.
"We're investigating all options to find a venue that is fairly suitable and at a rent we can afford.
"This has even taken us to local council meetings to see who we can team up with to work as a corporate for other skating codes.
"What we really need is a 20m by 30m indoor area with a suitable wood or smooth concrete floor. Bigger is always better, of course, but we're on a budget."
Training is already under way, with the competitive season starting on February 8.
In the first match of the season, the Bay City Rollers development team Twisted Sisters will be facing off against the Whenua Fatales of Levin.