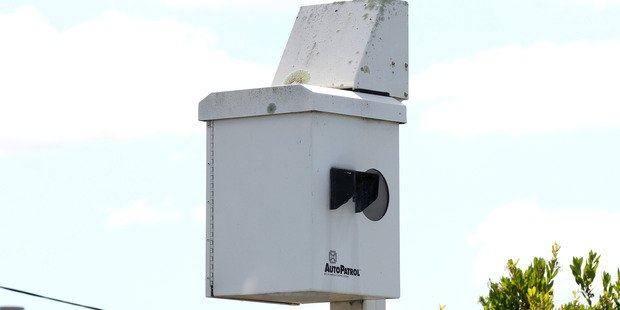 A fixed speed camera on Kennedy Rd in Napier has been revealed as the busiest in Hawke's Bay for two years running - issuing 833 tickets in the past year.
By comparing data released under the Official Information Act, Hawke's Bay Today determined that the camera, situated between Riverbend Rd and Konini Cres, snapped 467 fewer notices than in 2012.
While the devices were clearly working to deter some speeding drivers, there was still a long way to go, AA Hawke's Bay chairman Roger Bull said.
"If you look at it, any tickets being issued are [indicative of] offending, that's an area where there are schools; people have got to realise speed actually does kill and going over the speed limit is serious.
"I think drivers are becoming more aware that if they speed, it's going to cost them, but I don't know whether a lot of the population really think it will injure people."
Mr Bull attended a meeting with New Zealand Police this week to discuss Hawke's Bay's high crash zones and whether they could benefit from the installation of a speed camera.
"They don't want to put them in places where they are going to be catching people in a fishing hole, they are there to serve a purpose in places such as Kennedy Rd where there's a long straight and people lose concentration."
There were many factors to consider before a final decision.
"It's based on crash data, then you look at the typography - whether the physical change could reduce crashes and fatals - if all those things are being done it may be a case of putting a camera in place." Contrary to popular belief, they were not a scheme to make money.
"The cost of processing tickets is extremely high, it far outweighs the cost of a ticket; police are not doing it to collect revenue, it doesn't go to them anyhow, it's about changing behaviours."
Odelle Birks who worked on reception at Deco City Motor Lodge on Kennedy Rd said she noticed only the odd car "hooping by", adding that most traffic travelled at a steady pace.
She was surprised to learn of the huge number of fines handed out by a speed camera across the road; "It's pretty horrendous".
Meeanee Quay was the second most active camera issuing 805 notices. The three next busiest were on Taradale Road near Tamatea High School; Georges Drive between Kennedy Road and Nelson Cres; and Chambers St near Napier Boys' High School - all highly populated areas.
They issued 762, 662 and 504 speeding notices, respectively.
Getting people to drive slower meant they were more aware of their surroundings and had a greater chance of reacting if an obstacle presented itself.
"It's a lot about preventing speed-related crashes, that's the focus, we deploy mobile speed cameras to areas where there are risk factors such as school crossings or pedestrians, it's making the roads safer for everyone," Hawke's Bay Road Policing Senior Sergeant Greg Brown said.
Tomorrow will see the conclusion of a major two-month advertising and enforcement campaign on speed where any vehicle exceeding the limit by 5km/h, faced receiving a ticket from police.
"What we are after is compliance, if we do our best to target speeders and we find that people are going at the appropriate speeds, that's a success.
"The summer campaign is targeting those reduced tolerances and we are seeing a shift in driver behaviours."
On the open road people were starting to get the message, but many were still flouting the law in urban areas.
"It used to be quite frequent to see people travelling 110km/h, now most are going 100km/h or less, in town it's the opposite."
The idea of keeping the lower tolerance in place permanently has been raised in some recent media reports, but AA Motoring Affairs general manager Mike Noon said it was too soon to tell.
"December and January have had extremely low numbers of road deaths but it would be wrong to claim that is all down to the reduced tolerance.
"January 2013 had the lowest number of road deaths since records began and it only had the lower tolerance in place for a few days. January this year has had the lower tolerance in place for the whole month and ... there had been four more road deaths than the same time last year. It shows there is a lot more than speed involved in road crashes."