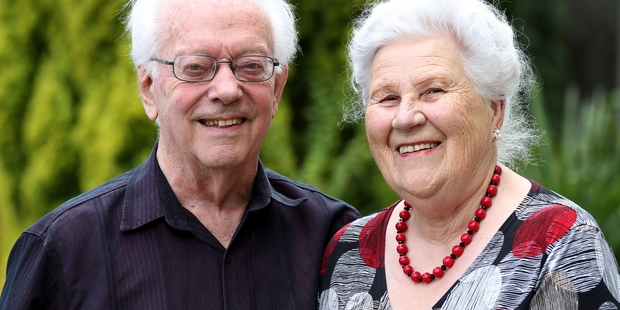 Napier couple Wim and Maria van der Linden celebrated 60 years of marriage this week - and to say their lives have been something of a journey would be one of the understatements of the year.
The van der Linden name, through Wim's work, has been strongly associated with the Hawke's Bay wine industry.
Dutch born, he is a life member of the Hawke's Bay Winegrowers Association and although a civil engineer by profession he started up Linden Estate Winery, at Eskdale, with his wife back in 1971.
The first grapes on the site were planted with the assistance of Sir Tom McDonald and McWilliams Wines, who helped plant approximately 12 hectares of palomino and riesling and the couple began making wine in 1979 - building a strong reputation They eventually sold the winery in 2001.
And Mrs van der Linden, who was born in Poland, became a sought-after speaker in the wake of publishing a remarkable book about her life, which included harrowing tales of struggling to stay alive as a young girl during World War II.
Invading Soviet forces took her father, who was a doctor, away one night and she never saw him again.
She and her mother and brother were sent off to Siberia, travelling on cattle trains with little water and food.
She spent the war years in horrific camps and later, as a refugee, was sent by British authorities to the colony of India.
The family was eventually sent to New Zealand in 1947 by the United Nations Refugee Resettlement Association to start a new life.
And as she said, "a great new life".
She was able to go to school and on to university to be become a teacher, and during that career she went on to teach at St Joseph's Maori Girls College for 24 years.
It was while at university she met Wim, who had also been through the trauma of war while living in Holland - at one stage being arrested and sent to a transit concentration camp.
After the war, and after he had qualified as a mechanical engineer, he was drafted into the Dutch Army and sent to Indonesia where the Dutch had colonies. He experienced violence and severe illness, and after returning to Holland disillusioned, decided to set out on a different path in life - he made the decision to shift to New Zealand.
In 1952, aged 27, he met Maria, who was 20.
Maria said they were both immediately attracted to each other, and could appreciate the hardships each had been through.
They were married on January 23, 1954, and lived in Wellington until Wim applied for and got the job of Borough Engineer of Waipukurau - where they moved to in 1959.
In 1961 they moved to Napier, where Mr van der Linden put his engineering skills to work as new subdivisions and suburbs sprang up.
It was in 1970 they became what Mrs van der Linden called "rural landowners" in Eskdale.
The couple had six children, four girls and two boys, and life was busy and colourful.
As Mr van der Linden slowly built up the winery Mrs van der Linden began teaching full time at St Joseph's, retiring when she was 60.
She embraced Maori cultural values and said the bonds she made could be summed up by a favourite phrase.
"He taura waka e taea te motu, engari he taura tangata kaore e taea - "the rope of a canoe can be broken easily, but the bond between humans cannot".
"It has been a good life," Mrs van der Linden said.
While the anniversary was on Thursday, last Saturday they had a big family lunch at the Mission Estate as it was on the Wellington Anniversary Weekend.
"And that was the weekend we were married."
Forty-three family members gathered - among them their 14 grandchildren and five great grandchildren.
"And there are two more on the way," she said.
"It was a very wonderful day - a wonderful time."