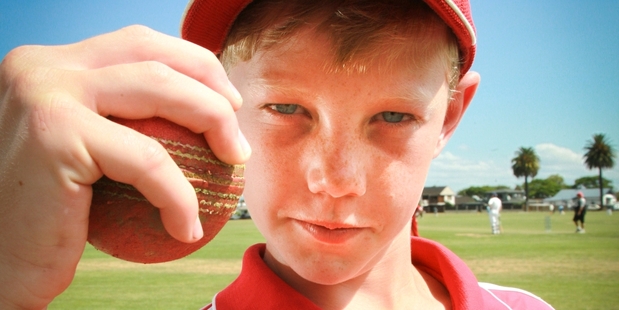 Every night when Toby Findlay lays his head on the pillow after an absorbing day at his home in Napier, he says a little non-biblical prayer in his mind.
Before the 10-year-old slips into la-la land, Toby gazes at his bedroom ceiling, by default, to read the words on a school artwork: "My goal is to be an international rugby or cricket star!!!! - that would make me happy."
If the Nelson Park School Year 5 pupil's efforts in age-group cricket is anything to go by, one would have to say the cricketing gods are listening and responding favourably.
Already a veteran of four annual Riverbend Cricket Camps in Hawke's Bay in the same age grade, the Napier Technical Old Boys player claimed his maiden hattrick of wickets a fortnight ago.
The youngster was playing for Tech against fellow Tawa Year 4-5 players when he sent a shudder through the Wellingtonians' batting order two Fridays ago at Frimley Park No4, Hastings.
In just the second over of the 25-over game and his first over, Toby created havoc with three wickets in a row from his last three deliveries.
The medium-fast right-armer had the visiting batsmen furiously padding up to beat the retreat of their dejected Tawa teammates.
Toby's six-ball, maximum over went like this: Wicket, wide, dot, wicket, wicket, wicket.
"When I got two wickets [in a row] and I was walking back for my run-up I was like, 'I need another wicket for a hattrick'," says the son of Hawke's Bay Cricket CEO Craig Findlay who has also been running the camp for the past few years.
Toby says planting yorker-length deliveries on the off stump did the trick.
"When I pitch it, it like goes through the batsmen."
He ended up with four scalps from two overs, conceding four runs.
"One of them was a really good batsman and he blocked half of my balls," says the youngster who was guilty of bowling too straight in the second over.
The senior Findlay, a former CD representative allrounder, says the joke in the family is how he is the only one not to have got a hattrick.
In 1993, Craig claimed all wickets for Burnage Cricket Club in a competition in Manchester, England, to finish with figures of 10-53 from 16 overs.
"I was on a hat-trick four times but I missed them all," he says with a laugh.
In fact, his father, HBCA president Harry Findlay, was quick to remind Craig he had claimed a hat-trick for the then Napier High School Old Boys' against All Stars in the 1980s.
"He's [Craig] useless," says Harry who is Toby's Tech coach and was on the sideline when his grandson accomplished his feat last week.
"Cricket is a major part of our lives so Toby's just following his dad.
"I remember when I got mine and it was a very pleasurable feat so anytime you get three on the trot it's very special."
Harry, who has the ball mounted in trophy fashion on his mantelpiece, recalls vividly taking caught and a leg-before wickets before bowling the next batsman for his hat-trick.
But it's Toby's time now even though Craig, 42, smashed 307 runs off 115 balls against St John's College pupils before retiring in a senior grade match the previous Sunday that sparked off a global debate via Hawke's Bay Today and social media on whether his knock was ethical.
Before the camp, Toby scored 57 runs for Tech in a Saturday morning game, retiring on 30 but returning when the side were nine wickets down to spearhead them to victory with teammate Samuel Pawson whose father Mike Pawson is a former CD teammate of Craig.
"Toby loves his cricket," Craig says of his son who spends countless hours bowling and hitting a ball in a sock under a tree in Sir Richard Hadlee fashion.
As a reward, Craig offered him $1 for every run to buy whatever he desired. Toby chose a Black Caps shirt.
"We had lunch with Jesse Ryder when he was here to play against West Indies the other day [December 29] so Jesse signed his shirt," says Craig of the former Tech premier club cricketer who he played alongside and who Harry mentored in the Bay.
So is Toby perhaps a little obsessive?
"No, because he loves his rugby, basketball, swimming and running, too.
"As a sports CEO, I'm worried about other sports, such as soccer, pushing them too much at this age," says Craig, emphasising it's vital for youngsters to taste myriad codes.
"When they leave school they are in a better position to decide what they want to do."
He stresses former English Premier League soccer player Ryan Nelsen was named a New Zealand age-group cricket captain after a tourney.
Former All Black Leon MacDonald was equally adept at cricket, he says.