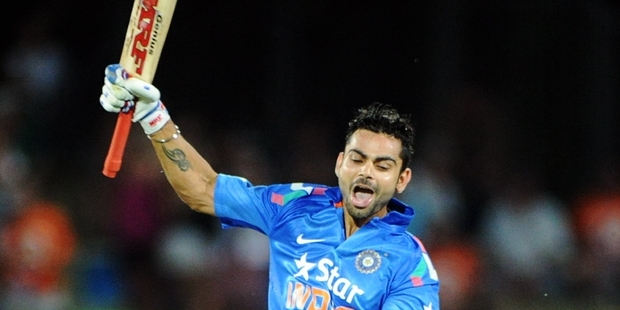 The writing was on the ... well, cardboard variety India flag on the embankment at McLean Park, Napier, last night.
Call it brave or a death wish but the young bloke wearing a white T-shirt, proudly wearing a black Fern on the front, held up the foreign flag which read: "Virat Kohli."
For his troubles the false prophet copped a barrage of missiles - empty plastic bottles, jandals and balls of paper - but he stood his ground in the face of what many touring teams would have considered mission suicide.
The 25-year-old India batsman didn't let the placard carrier down, smashing 123 runs off 111 balls, but the spoils went to the Black Caps in a nail-biting opening one-day international.
As it turned out MS Dhoni and his men paid the price for shunning the venue's history and head groundsman Phil Stoyanoff's gospel, according to bounce and pace, and batting first.
The crowd came to see an OK Corral-type of shootout and they got their money's worth as both sides loaded and fired.
But when the gunsmoke lifted Brendon McCullum and his troops were left high-fiving with a 24-run victory.
Delhi-born Kohli, who captains the Royal Challengers Bangalore franchise team, brought up his ton from 93 balls, including 10 boundaries and a six although he survived a catch at mid off a few balls earlier off Tim Southee when Jess Ryder was left clutching at thin air.
In fairness to Ryder, the ball sat up for yonks but it also swirled in the face of the shimmering floodlights.
But the former CD batsman made amends when he snaffled Kohli's off drive with India left chasing 58 from 35 balls.
Despite some lusty hitting from the Indians, the Kiwi bowlers kept calm, introducing Williamson and Nathan McCullum to take the pace off the ball.
In some ways there were many aberrations in yesterday's thrilling encounter to whet cricket lovers' appetite after a sub-par tour from West Indies this summer.
A lion's share of the 7576 fans painted a sea of orange, begging the question if perhaps one had been falsely lulled into watching a 2015 ODI World Cup qualifier between Scotland and The Netherlands with $100,000 at stake.
The other glaring anomaly was the tourists' decision to start shining the ball first after winning the toss on a driveway-like wicket only second to the Adelaide one in spawning runs.
No international team has ever chased down 300 in Napier as the Black Caps posted 292-7 in what appeared to be a par score.
But it's also safe to say reigning ODI world champions India certainly didn't come early to Napier last week to sightsee.
"India will win," was the early chant from just 17 overs into the run chase as Shikhar Dhawan and Kohli consolidated but the visitors hit the speed wobbles as Central Districts Stags speed merchant Adam Milne and former Stag left-arm seamer Mitchell McClenaghan gave the batsmen a hurry up.
The benign batting pitch stayed true and hostile towards bowlers but quite often, in such situations, it's easy to overlook the grafters.
No, not the batsmen - take a bow Kane Williamson for his educated knock of 71 from 88 balls, Corey Anderson for his don't-argue unbeaten 68 from 40 balls at No 6 and the ever-reliable Ross Taylor who will rue not turning his 55 into another ton at a favourite venue - but the bowlers.
McClenaghan (4-68) and Milne were always going to have spectators reaching for their heart pills but it was Anderson who was in some ways superb in performing the role of over-eater almost in the mould of former New Zealand medium pacer Gavin Larsen.
Like the curse of the Oscar, the 24-year-old Northern Districts allrounder will be known as the bloke who smashed the record for the fastest ODI hundred with a 36-ball blitzkrieg on New Year's Day against the Windies but his bowling suggests he has potential to be a fine allrounder.
He took 2-51 off his 10 overs in a crucial part of the innings when India appeared to consolidate as Anderson didn't allow the batsmen to free their arms.
Milne did rejoice with 1-40 at a similar run rate to Anderson but the 19-year-old Manawatu excitement machine hobbled off three balls into his eighth over with a side strain as veteran Kyle Mills greeted him below the Harris Stand.
For India, lanky paceman Ishant Sharma may find himself carrying the snake lollies after Black Caps batsmen took a shine to him.