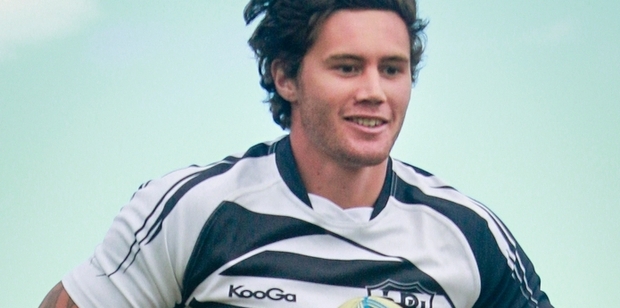 BLOKES WHO commit to jobs that regularly take them away from home tend to think twice about taking that route because it doesn't often sit too comfortably with their girlfriends, partners or wives.
Not so Gillies Kaka, who has chosen to run the gauntlet of coach Gordon Tietjens during the IRB World Championship Series for the next few years.
That's because his girlfriend, Breone Lay, of Hawke's Bay, is a flight attendant in Wellington who is equally keen to spread her wings to see a bit of the world.
"She wants to do some travelling too. She's doing Wellington to Australia now but she's hoping to get into some long-haul flights," Kaka says before the National Sevens kick off in Rotorua today.
That means, when Air New Zealand gives her the licence, Lay will be able to pick some of the exotic locations around the world to see Kaka ply his trade for the All Black Sevens team.
Kaka is co-captain with Hawke's Bay Magpies first five-eighth Ihaia West in the Murdoch Paewai-coached Telecom Business Hub Hawke's Bay Sevens team but he prefers to let his fellow Havelock North Rugby Club premier club teammate run the show.
"I'm not that experienced as captain but I do my normal work," says the 23-year-old, who roams anywhere in the back of the field but also feeds the ball into scrums and lineouts when the need arises.
"I let him [West] do all the talking because you just can't shut him up on the field."
Kaka relishes his time with Murdoch and the Bay boys.
"Everyone gets on well with each other. We have a good mix of players from all the clubs this year so it's easy to get on.
"It's all about doing what's best for the team and Murdoch's easy to approach, too."
If the young Bay team show commitment from today and play to their potential then they'll do well, he says, but if they "fail to turn up to the park, they'll struggle".
The former New Plymouth Boys' High School pupil's commitment to Tietjen's brigade means he has withdrawn from the Hawke's Bay Magpies' campaign from this winter.
"I had good game time with the Magpies but it came down to what my future was going to be in XV rugby."
Kaka decided to "run with sevens" after going through his options with his agent, Simon Porter.
"With sevens I could go overseas but to play for my country was a big point," says the son of Maahi and Charlie Kaka, a former Maori All Black player.
It goes without saying representing New Zealand as an Olympian in the code's debut at Rio in 2016 is a given.
"Olympics was part of our discussion so that'll open more doors to sevens. I'll just keep building and building as the sport gets better."
In his second season with Tietjens, he takes comfort in the fact that when he's finished chasing his Olympic dream he'll be relatively young enough to return to the Magpies' fold fitter, more mature and stronger to have another crack at ITM Cup rugger.
He had made his decision to move on fairly early, not long after New Zealand's Super Rugby squads were announced.
"I wasn't expecting to get a Super contract. It was a bit frustrating with my shoulder injury," he says, picking up an injury last year in the second half of the NPC in a match away against Taranaki.
The Kaka family left New Plymouth for Palmerston North after Gillies finished high school but he wasn't sure what he wanted to do.
He opted to go to Spain for a six-month playing stint with a Palmy mate, Reece Williams, whose father Levi was coaching there.
Six years ago the family moved again, this time to the Bay, where Kaka found traction with the Bay rugby academy.
"One thing led to another and I picked up a contract with the Magpies," says the utility back, who hung out in the wings for three years but prefers to play fullback.
He didn't see his father play much rugby growing up but looks up to him for inspiration and guidance.
"He's a tough critic and keeps me grounded."
His mother transported him everywhere to play and was his great supporter.
"They came to the Wellington Sevens to watch me play."
Kaka laps up the gospel according to Tietjens, who doesn't mince words when it comes to attaining peak fitness.
"It's hard but Tiets brings young fellows and shows them what it's like to be a professional, so it's a good learning environment."
He juxtaposes Tietjens' training with the Magpies to reveal the former can involve 90 minutes of running, while the latter often entails 20 minutes of hard yakka.
"You can be stuffed in sevens but, some days, you can be even more stuffed with the Magpies, so it depends."
All up, he finds the sevens culture purposeful and gratifying.
"It's awesome. It's like you don't feel like you're doing a job for fun and you're getting paid to do it and see the world."
Dubai, for instance, "was cool" as the squad went for an off-road 4WD drive into the desert.
"We saw camels there, so that was a highlight, too."
Hong Kong, no doubt, remains the Mecca of sevens rugby. It was the former British colony that spawned myriad tournaments that in turn gave birth to the IRB Series circuit.
"The Hong Kong markets are awesome and the crowd at the games are so loud you can't hear yourself think."
What wasn't cool was the 44-0 thrashing from Fiji in the semifinals of the second round of the series in November as the Pacific Islanders went on to claim their maiden Dubai Sevens crown.
"That wasn't fun. Fiji played good and we didn't play at all.
"Fiji kicked off and scored and then they kicked off again and scored," he says, adding the team held soul-searching talks after that but, unfortunately, didn't redeem themselves in Port Elizabeth against winners South Africa in the following round last month.
The fourth round is in Las Vegas from January 24-26, before the Wellington Sevens from February 7-8.
Tokyo, Hong Kong, Glasgow, London follow through to May, to complete the 2013-14 series.