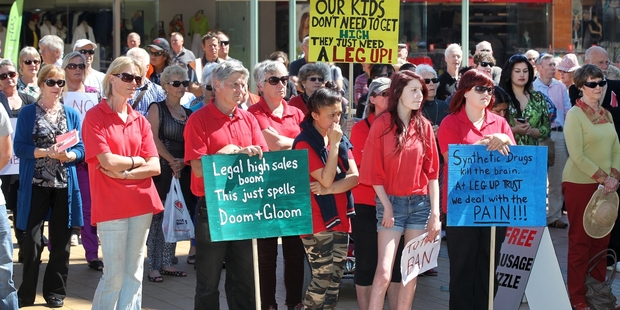 Three Hawke's Bay retailers hold licences to sell psychoactive substances while one remains under consideration, according to information sourced from the Ministry of Health.
Two of the retailers are located in Hastings, Nigor Trading Ltd and Adult Selections Hastings, the third in Napier, Adult Selections Napier, while a fourth in Napier, Thiara Sons Ltd, is under consideration for a licence.
Tukituki National MP and cabinet minister Craig Foss said the Psychoactive Substances Act was still in the process of "cleaning up" legal high related crime but was helping authorities monitor the sale and distribution of psychoactive substances.
"We still have a long way to go but we have seen improvement and decline in the number of varieties of legal highs and the number of shops selling them."
Last Saturday Adult Selections Hastings was the scene of a brazen robbery where two offenders threatened a female cashier with a screwdriver before making off with a substantial quantity of legal high products.
Mr Foss said people committed crimes for a variety of reasons, but admitted the offenders may have been motivated by legal highs.
"We are still in the transition phase and still testing a number of substances. It can be a frustratingly slow progress but I think once the legislation is fully enacted it will really help."
The fear however is a number of retailers are selling pyschoactive substances without a licence.
Last month police said suburban Hawke's Bay dairy owners were going to extreme lengths to illegally sell psychoactive substances, including making home deliveries to customers. Another "covert method" to flout the law was hiding synthetic drugs at the bottom of lolly packets when handing them to buyers.
Napier National MP and cabinet minister Chris Tremain said it was still early days to see the "full benefits" of the act but noted a number of successful changes.
"We have seen a significant reduction in the number of products, down from about 200 to about 40, with 75 per cent of products removed. While the number of retailers in the country has dropped from about 3000 to approximately 160."
He said it would not be until midway through 2014, when psychoactive product testing was complete, before a "full appreciation" of the act could be felt. "My natural inclination was to just go out and ban them but the risk is if you ban it outright then you push it underground and don't have the ability to regulate and test it. People may say 'What about marijuana?' But we have studied the effects marijuana has, we just don't know what is in some of these synthetic highs or what side effects they can cause."
The dangers and effects of pyschoactive substances were witnessed in September when a 12-year-old boy attacked a 49-year-old man in Hastings while high on synthetic cannabis. The assault led to a local petition submitted to Parliament aiming to completely ban "legal highs" in the region. The petition, by Hastings District Councillor Sandra Hazlehurst and Hastings Deputy Mayor Cynthia Bowers, had 1040 signatures, following a September anti-pyschoactive substances protest in Hastings. September also saw the Hastings District Council vote to limit the sale of psychoactive substances to its central business district.
Ms Hazlehurst said a submission would be presented to a Government select committee by January 24 providing further detail on the petition.
"We will have to provide more detail about why we want a total ban, which will be largely based on reports from the DHB and police."
She said while the act had helped reduce the number of retailers selling psychoactive substances, the harmful effects remained.
"Because it is legal, people think it's safe but it is incredibly harmful. While they have tested these drugs and deemed them to be safe they all have different effects on people. What might be safe for an older person may bring about a violent reaction in a 12-year-old."
To apply for an interim licence to sell psychoactive products retailers should have applied within 28 days of the commencement of the act with a $500 fee to be paid to the Ministry of Health.
Conditions of the licence include, not selling the product to persons under 18 years old and not employing persons under 18 to sell the product. Those with an issued licence must also not advertise a pyschoactive product in any way that can be seen from outside the premises.
Enforcement and monitoring is carried out by police and district health board public health officers, while Customs has lead responsibility for ensuring unapproved psychoactive substances do not enter New Zealand.