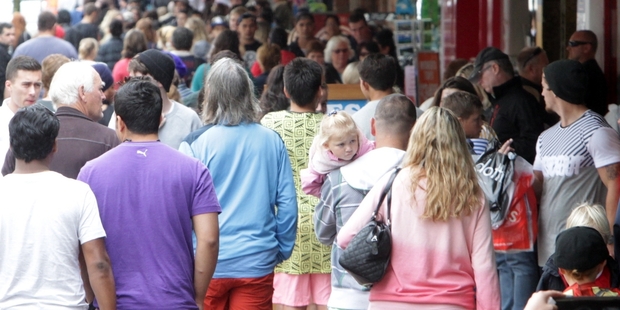 Paymark figures confirm the holiday period has indeed been a shopping bonanza.
While Hawke's Bay Christmas Eve shoppers spent 18.5 per cent more than last year, the same as the national increase, Boxing Day was also strong here, with an 11.7 per cent increase on last year.
Paul Whiston, Paymark's head of sales and marketing, said Christmas Eve was its biggest day on record with $238.4 million worth of sales through its network nationally, which processes about 75 per cent of electronic transactions.
"Christmas Eve this year smashed all our records," he said. "Not only did we see the highest value through the network ever, we also saw the highest number of transactions - at 4.35 million - and the largest number of transactions per second."
Hastings City Business Association manager Susan McDade said the retail scene over the holiday period was "amazing".
Speaking while shopping for dresses with her daughter in Hastings' Farmers department store, she said the increase in retail spending had been gradual during the year and retailers were hoping for a good Christmas, "but it has been fantastic".
A "tipping point" had arrived and spaces vacated by large retailers moving to bigger premises, such as The Warehouse, Farmers and Mitre 10 Mega, would soon be filled.
"Developers and landlords have opened their horizons for the potential for those spaces - negotiations are going on right now," she said.
"In the next two years you are going to see a lot of new businesses - it's a really exciting time."
Napier Inner City marketing manager Meg Rodel said the end of year result reflected confidence in the economy.
Napier retail construction was finishing a strong growth phase.
"People are starting to reap the benefits - the new businesses that have come in - and certainly so will businesses waiting to take up places that have not yet been completed.
"There is a buoyancy there and people are feeling very positive about how the festive season has gone," she said.
"How it pans out in the next few months will be the telling point. Traditionally, this is the good time of year for retail and it is hard to know going forward what things are going to look like."
Mr Whiston said the spending increase was nationwide.
"Looking at the regions, it's nice to see some of the smaller parts of the country reaping the benefits. Gisborne saw the highest growth on Christmas Eve, up almost 36 per cent on the previous year."
Wairarapa increased 17.2 per cent on its 2012 figure.
Food and liquor retailers were the biggest winners nationally, up 28 per cent while department stores were up 23.2 per cent.
"The huge queues seen at the supermarkets on Christmas Eve were certainly reflected in our stats for the day, as people rushed to get their fresh produce for Christmas lunches and dinners."
In Boxing Day sales, clothing and jewellery stores were up 16.5 per cent, appliance and whiteware stores 16.6 per cent, electronics retailers 12 per cent and floor covering and furniture stores 17.5 per cent. Sales at sporting and camping equipment stores were up 20.2 per cent and 31.8 per cent respectively.