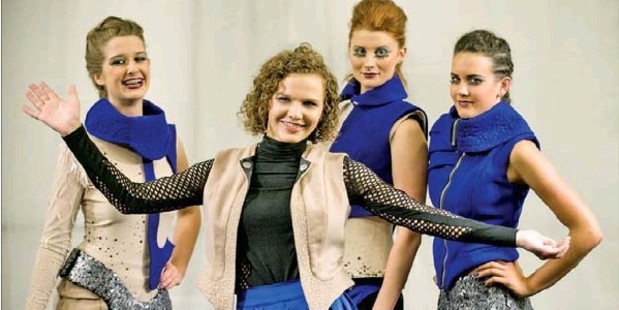 Staged for the first time in EIT's Trades Block, ideaschool's end-of-year fashion show was an explosive mix of industrial edge and designer chic.
The event is the annual showcase for Certificate in Fashion Apparel students.
This year, more than 330 people packed into the carpentry workshop of the Trades Block to see 30 first- and second-year students exhibit their work. And for the first time, these included students from Tairawhiti, EIT's Gisborne campus.
As in the past, the highlight was the collections, created by 13 senior students and each with three related "looks".
Hinei Chadwick, for example, based her collection on Baroque architecture. In a first for an ideaschool fashion student, she laser-cut gold-coloured pvc to craft richly detailed midriff pieces as inserts in her garments.
Audible gasps of appreciation greeted Inge Hopman's Noir collection - a line-up of flawlessly tailored pieces, all executed in black.
The overall supreme student, Tessa Paayman, played up the drama in her collection, The Day After the Future, packing in eye-popping effects.
Silver-sequinned hotpants teamed up with a fitted and zipped electric blue jacket. Theatrical details included a chunky quilted collar and a pleated cape-like effect over the single sleeve.
Japanese couture designer Shingo Sato inspired Tessa's cashmere wool skirt. Featuring naturally forming pleats on the side panels, it was coupled with a fitted nude-coloured top studded with hot-fixed Swarovski crystals.
A crystal- and bead-spangled fibreglass bodice and trailing electric-blue skirt inset with panels of metallic grey sizzled with runway magic.
Both "distinguished" award-winners, Kimberley Kindelan and Grace Evania, showed strikingly different looks.
Kimberley's collection, Dawn, evoked the Victorian era, picking up on the formality of the military officer's uniform and the demure and elegant styles preferred by gentlewomen taking tea.
Fitted navy wool trousers met pretty in a demure white silk blouse treated to a pearl-buttoned front, three-quarter-length sleeves cuffed in pleats and a chin-high pleated collar underscored with embroidered flowers.
A de rigueur colour in drawing rooms of the day, mushroom pink was most decorous in a near-knee-length pencil-pleated skirt, teamed up with a long-sleeved white silk blouse gathered into a pleated stand-up collar.
Kimberley's "signature pieces" were a military-style frock coat with brass buttons and open front, worn with a mushroom pink pencil-pleated dress with stand-up collar, elbow-length sleeves and a double layered skirt.
Grace Evania's menswear collection, Ray, saluted her late grandfather and uncle - both named Ray. Restricting her colour palette to black and navy blue, Grace teamed up easy-fitting coats with dropped-crotch pants. Her yoked T-shirts were faced with doilies - ornamental table mats in vogue around World War II.
"I dyed them black," she said, "to make them look more masculine."
Inspired by old photos of her relations in uniform, she explored military themes in pure wool coats and played with "double-double" detailing.
Grace is solely focused on menswear design. She first acquired an appreciation for quality fabrics and impeccable construction from her mother, who teaches textiles at Wairoa College.