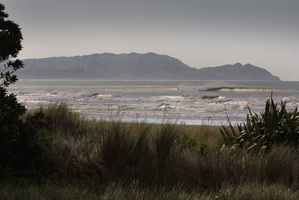 Over three consecutive days last week, Porangahau Police Senior Constable John Singer found himself dealing with four groups of people who had taken undersize paua, with one of the groups nabbed with nearly six times the legal daily limit.
"And some of the paua they had were so small, so undersized, it was ridiculous," Mr Singer said.
He was patrolling an area near Blackhead Point last Wednesday in the wake of police receiving reports that over previous days people had been seen acting suspiciously, and of vehicles arriving and leaving, sometimes with the occupants carrying bags.
At around 4pm, he spotted a four-wheel-drive vehicle some distance away and began watching it through binoculars.
He then moved in and as the vehicle came around the corner and the occupants realised who he was one began throwing paua out the window. "They probably threw six or so out."
He pulled the vehicle over and the three occupants were asked to hand over what they had.
Mr Singer counted 64 "small" paua. "Well under-size," he said.
They also effectively had double each the daily limit of 10 per person.
After seizing the paua and taking the group's details Mr Singer allowed the trio on their way as the charges they now faced would be compiled and laid by the Ministry for Primary Industry (formerly fisheries).
On Thursday, he came across two more groups leaving the known paua spots and stopped them.
Again the paua he found were undersized, and while one group had their legal limit the sizes were just under the 125mm minimum measure.
"They weren't much under but the fact is they were under. It's not hard to measure them properly."
He was able to successfully put 43 paua back into the sea.
The two groups were also referred to ministry officials.
Then on Friday, Mr Singer's suspicions were aroused by three people he said had driven to Porangahau from Flaxmere and Fernhill and pulled them over.
He found 174 undersized paua.
"Really small - just tiny."
Even if they had been legal size the three were entitled to 10 each - they had nearly six times that.
They, too, are facing charges.
"This sort of thing does get busier as the weather warms up and Christmas approaches," Mr Singer said, adding there was also the likelihood some were being taken to be sold on.
On Sunday, however, there was some good news.
"I had a fantastic result. I stopped 14 vehicles and did the checks - and they were all good."
Paua sizes and limits were "spot on", he said.
"It is so important we keep an eye on what's there so that we can all enjoy this resource."
Mr Singer said the public were invaluable to police and officers from the ministry who were in constant battle with poachers.
"If anyone has any suspicions at all, they need to call us or the ministry and let us check it out. It's happening all up the coast, though, not just here," Mr Singer said.