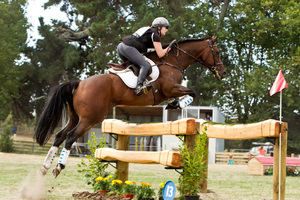 Hamilton's Tessa Jacks took top honours with Cracker Jack Candy at Woodhill Sands Horse Trials over the weekend, winning the Fiber Fresh CIC3* class after a tight tussle with Taupo's Karen Niederer on Cape Palliser.
The final margin was one point, Jacks' final score being 81.9 penalties to Niederer's 82.9.
In the disappointingly small class of two starters, the minimum permitted for a Super League, Niederer took the lead after the dressage on a score of 53.7 penalties, Jacks scoring 58.3.
Both riders had a rail down in the showjumping, and jumped clear across country, but Jacks was faster, incurring 19.6 time penalties to Niederer's 25.2.
This has resulted in Jacks joining the two already sharing top spot in the ESNZ Eventing Super League, in which no rider has yet scored twice.
As a result, the Puhinui CCI3* on 6-8 December, which earns double points and marks the halfway stage in the year long series, will have a huge influence on the series leading into the second half of the year.
Meanwhile, Donna Smith has earned a qualifying score on Balmoral Tangolooma at the Adelaide CCI4*, making her first appearance in the series which now has 16 horse and rider combinations on the board.
-Super league standings after six events: Tessa Jacks, Hamilton, Cracker Jack Candy, 69 pts; Angela Lloyd, Auckland, Song, 69 pts; Bryce Newman, Bulls, Bates Trademark, 69 pts; Dannie Lodder, Auckland, Moochi, 61 pts; Matthew Grayling, New Plymouth, NRM Lowenburg, 46 pts; Sam Taylor, Swannanoa, Leo Degas, 46 pts; Abby Lawrence, Te Puke, Pseudonym, 41 pts.