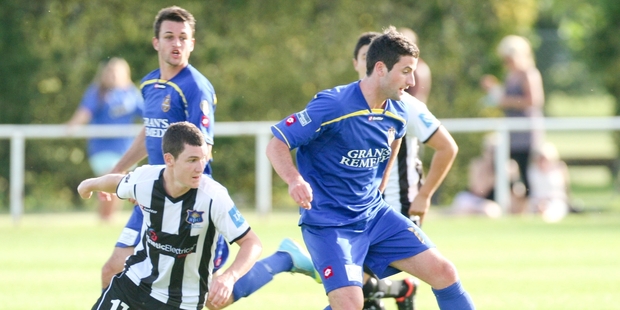 That coach Chris Greatholder didn't growl or bark until the 76th minute of the game spoke volumes.
"I think there was an inner belief. Even in the last 20 minutes of the first half we were in control even though we were 2-1 down," Greatholder said after Kinetic Electrical Hawke's Bay United came from 2-0 down to beat Southern United 3-2 in Napier.
"We knew we were a better side than they were and we had a feeling they were going to wilt in the second half," he said after the rebranded franchise from Otago caused some flutter in an exciting round two match at Bluewater Stadium, Park Island, on Saturday afternoon.
With 11 new faces in the camp, Greatholder said the hosts were always going to have some teething problems.
"We can't do it overnight so it's a promising start, really."
If anything, the Bill Robertson-captained side started slowly in the first 20 minutes but showed great resilience to keep their composure and grind down the opposition, who were reduced to sitting back deep for two thirds of the game.
He didn't want to take anything away from the visitors but Greatholder lamented his troops' defensive lapses.
"If we defended better we could have had a better day at the office, I think."
Brazilian striker Henrique Alves-Viana was causing problems with dazzling footwork and peripheral vision.
In the ninth minute, Alves-Viana did what centre back Aaron Jones should have done to him from a long ball just outside the 18m box.
The striker shouldered Jones, dispossessed him before deftly pushing the ball out to the left to an unmarked Daniel Morris to drill it past goalkeeper Matt Gould for a 1-0 lead.
Southern centre back Campbell Higgins increased the lead to 2-0 in the 25th minute when he paid homage to those who worship before the far post, latching on to an Aajay Cunningham free kick from about 25m out.
Greatholder came out of the dugout for the first time but didn't utter a word.
It wasn't until the 35th minute before Bay United pulled one back, 2-1, almost under pressure from a David Mulligan free kick as striker Tomas Mosquera ushered the ball into the net with little pomp and ceremony past goalkeeper Jeferson Potrich.
The sides went into the break with that score and it was Mosquera again in the 64th minute, drilling in the 2-2 equaliser from about 25m out after some sloppy Southern defence in controlling a long ball.
The inner came from substitute striker Sean Lovemore in the 74th minute, pumping the ball from inside the 18m box after some more lethargic defence.
"I would rather it wasn't as entertaining as it was but, yeah, I'm pleased," Greatholder said, adding the tactical substitutions were equally vital.
Harley Rodeka, moving from wing to right back in the second spell to mark Alves-Viana, cramped up towards the end with all substitutes spent but the coach lauded his players' fitness.
The only downside to the victory was losing versatile defender Fergus Neil, who left the field holding a bleeding lip in the 71st minute after a challenge from yellow-carded Taylor McCormack.
"I think he's split [his jaw] in two and has gone straight to A and E so we'll see what happens with that," Greatholder said after the game.
Silly free kicks crept in with Southern's frustration obvious as Geordie Mansford threw the ball down to collect a yellow card.
It's hard to single out Bay United players for kudos in a game where everyone took ownership.
In contrast, Brazilian coach Luiz Uehara was vocal throughout the game, emphasising afterwards his players' average age was 20 and it was about development.
"We knew we are capable of scoring goals but we need to do that and maintain possession," Uehara said, adding he was happy compared with their opening round 3-0 loss to Waitakere United.
"It's very disappointing [to lose]," he said, revealing Southern changed their formation to counter the hosts' move to use spread their attack out wide to produce diagonal crosses into the box.
"My defence worked well but it's the small details. They needed to simply clear the ball rather than take two touches or put more pressure."
Alves-Viana, he said, was skilful but only 80 per cent fit, still trying to adapt to the premiership mould in a bid to improve the rapport with Englishman Daniel Morris.