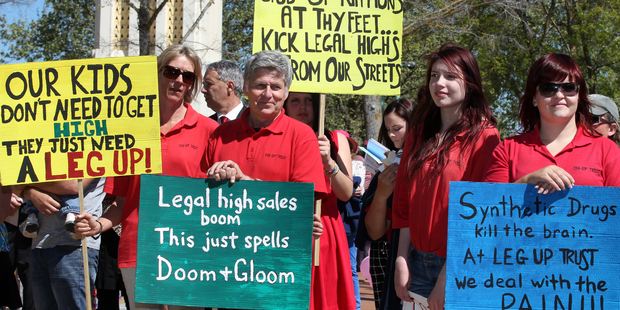 A dairy owner caught selling a psychoactive substance has escaped conviction because it may hinder his chances of becoming a New Zealand citizen.
In the first prosecution of its kind in Hawke's Bay, Xinbaio Zhang, 51, was charged with selling a non-approved product without a licence and selling a psychoactive product from an unauthorised place.
A third charge was withdrawn by police in the Napier District Court yesterday.
Zhang, a Chinese national, pleaded guilty to the two charges through his lawyer, Scott Jefferson, who said he had made a "foolish" decision to sell one packet of Kryptonite to an undercover agent commissioned by the Ministry of Health.
A police summary of facts stated that on September 27 a controlled purchase operation was conducted. The agent went into Vigor Brown Street store, where Zhang lives in an attached house with his wife, and spoke to a woman there who refused to sell her any psychoactive substances.
"A male from out the back, who is now known as the defendant in this matter, Mr Zhang, spoke to his wife in what we now know to be Mandarin.
"She then told the purchasing agent to go and meet her husband at the side door of the house."
At 3.20pm the agent went to the side door and asked if she could purchase some synthetic cannabis.
Zhang handed her a packet of Kryptonite, a psychoactive substance banned by the Ministry of Health two days before the offence took place.
Mr Jefferson told the court the offence was "low end" and said the stock had come from another shop in Greenmeadows that Zhang had some interest in.
A desk was moved from the Greenmeadows store to the Vigor Brown Street store which had one packet of the banned substance concealed in a drawer.
The rest of the stock had been returned to the supplier.
Mr Jefferson said police searched the property after the transaction and no further product was found. He applied for a discharge without conviction which was opposed by police.
"He wishes to become a New Zealand citizen and to join the workforce in a wider capacity."
Judge Tony Adeane said he found, because of the timing of the incident - just two days after the law change, the adverse consequences of a conviction would outweigh the level of offending.
He ordered Zhang to pay $500 toward prosecution costs.
Acting Hastings Mayor Cynthia Bowers said the decision not to convict Zhang was "disappointing" and made a "mockery" of the law.
"The new laws are there for a reason and with this decision it runs the risk of people not taking it seriously."
On Tuesday Ms Bowers and Hastings district councillor Sandra Hazlehurst submitted a petition to Parliament to ban all legal highs. The petition gathered 1040 signatures following September's anti-psychoactive substances protest.
"It sends a message that the law doesn't matter. You can break the law but not be convicted of it - it's really disappointing."
She said if the law was doing its job, future charges under the Pyschoactive Substances Act would be likely in Hawke's Bay.
"Police have said they are watching the stores with licences very closely but with the nature of these substances undercover stings should definitely continue."
Ms Hazlehurst said the decision made a "joke" of the Pyschoactive Substances Act.
"Clearly the law is not working. We have seen it twice now, firstly with the young boy in Hastings after taking what was meant to be a safe drug and now a store owner who has escaped conviction."
"The whole Psychoactive Substances Act is a joke - what he was doing was illegal. It just sends a bad message."
Officer in charge of the case, Sergeant Nigel Hurley, said police had been working closely with the District Health Board, local iwi, community groups and members of the community.
"The single purpose is to deal with pyschoactive substances as effectively as we can in Hawke's Bay. We've been receiving a steady stream of information from the public."
He said that when the law change came into effect, police and the Ministry of Health visited every dairy selling psychoactive substances.
Police then began conducting controlled purchase operations, which were continuing.
Mr Hurley said police would continue to monitor the three outlets in Hawke's Bay with current licences to sell psychoactive products. One licence application was still under consideration.
Dr Donald Hannah of the Psychoactive Substances Regulatory Authority said while the court had seen fit not to impose a penalty in this instance, the case should act as a warning to anyone contemplating breaching the Act.
"There is active monitoring going on by Police and district health boards - breaches will be vigorously prosecuted."
He said since the Psychoactive Substances Act took effect on July 18, there had been a 95 per cent reduction in the number of retail outlets selling psychoactive substances. Dairies, convenience and grocery stores, service stations, and liquor outlets had been banned from selling psychoactive substances.