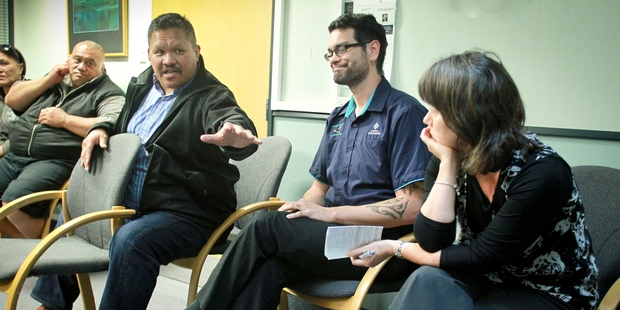 A hui was held last night by the Flaxmere Community Action Group in an effort to "unite" for a "common cause" following the sudden deaths of two 15-year-old Flaxmere College students.
At the Flaxmere community police station, parents, teachers, student representatives, district health board and police representatives, among others, talked about the issues leading to the deaths of the two teenagers and what could be done to prevent such tragedies.
Flaxmere College board of trustees member Jolene Morrell said the last two weeks had been "really overwhelming, sad and depressing".
"After talking with whanau, teachers and kids, the families are crying out to grieve on their own now. They have appreciated all the support that has been sent. But it has been overwhelming."
The group raised a number of challenges and solutions to an issue that many said should have been addressed sooner and asked for a strategic plan from the DHB and other agencies.
"Why has it taken the loss of two more of our tamariki, to be taken away from us, before anything is done? There needs to be some guidance and co-ordination," said one woman.
"Collectively, as a voice, we can make this happen. There has to be something to look after our young, to look after the young leaders of tomorrow."
The tangi for the second girl was held yesterday morning, when tributes and messages of love continued to flow from friends and family for the teenagers.
The Ministry of Education is also providing support to the school in the form of a specialist team.
One of the girls died last Monday and the other died on Saturday. It is believed no foul play is suspected.
The group also said that the family of one of the girls was "shocked" and "disgusted" to find both girls named with Facebook photos in yesterday's Dominion Post.