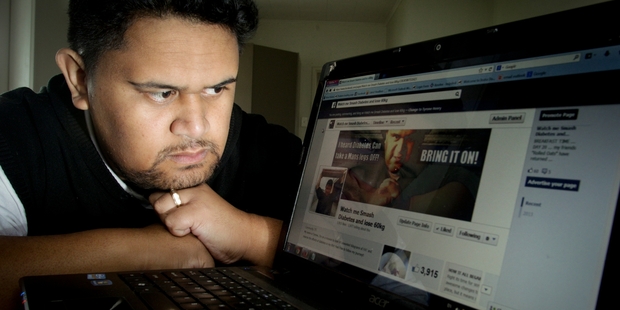 A Hastings man vowing to lose 60kg and "smash" diabetes is inspiring others, with 4000 people from New Zealand and abroad following his progress on Facebook.
Tyrone Henry got a "wake up call" that his lifestyle needed to change after being diagnosed with type two diabetes in May; but when a second test last month revealed his condition had worsened, it was time to take action.
"The doctor was quite straightforward, he said 'unfortunately it means I will be adding more pills to your current medication and there's a chance you will be on insulin by the end of the month'," Mr Henry said.
"I started trying to justify myself, saying I had cut down on the McDonald's - it was then that I realised, sure I was only having one Big Mac at a time, but it all adds up."
Armed with new motivation and support from his wife, he adopted a healthy diet and exercise regime starting from Wednesday, October 23.
That same day he launched a Facebook page called 'Watch Me Smash Diabetes and Lose 60kg,' featuring posts, photos and videos of his journey.
"It was accountability and transparency - I was hoping that if I missed a video of my walk or a photo of my dinner, people would say 'hey, what happened?. There's a huge responsibility for me not to mislead anybody.
"I did the page for me, but along the way people are deciding we are going to do this too."
Seeing his grandparents and their siblings pass away in their 40s and 50s, due to diabetes, made him all the more determined to fight the effects and lose weight.
"Starting this journey, the biggest thing I realised was that there's no use sitting around waiting for a foundation to find a cure or for someone to make a pill to help you lose weight. I am the one that can change this obesity. I'm the cure to stop this."
So far he has lost 8.7kg off his 149kg frame in 20 days - a weekly weigh in takes place every Tuesday and is showing signs that his efforts are paying off.
"I started walking for minutes every morning, I wanted to do that until my lungs could support me again, in the first video I'm almost dying.
"Now my lungs are getting stronger again I can breathe so much better now, my wife and I are thinking of adding swimming as second exercise - I know my body is at the right stage now."
There are other benefits too - his mind is clearer, he has more more energy, mood swings are disappearing and moisture is returning to his legs, which had become dry and scaly. Eventually he hopes to start trying more high energy activities, such as Zumba, adding something new every day.
Mr Henry has had offers of gym memberships, free classes, products, food and personal training sessions but did not accept them.
"I want it to be realistic but if I take all of that it's going to be unrealistic; a lot of people can't afford a gym membership or a personal trainer, and they won't be able to follow.
"If they are really serious about their offer of free services they can give them to those who are watching me - I have my goals in mind, but I hope those businesses and trainers will pass on that generosity to other people."