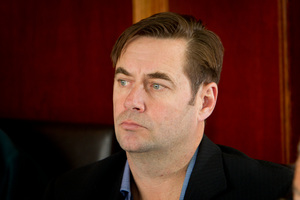 The board of inquiry hearing into the Ruataniwha dam, previously scheduled to finish before Christmas, is now expected to run into February.
The extension of the hearing schedule has reignited claims from opponents of the proposed Central Hawke's Bay water storage scheme that the board's tight timeframe is making the inquiry process into the project unfair.
The five-member board will begin hearing evidence in Hastings on Monday.
Last month it said it expected to sit for five weeks, winding up on December 20. But there has been strong interest from submitters in appearing before the board and, in a draft hearing schedule emailed to submitters late last week, the board has indicated it will reconvene from January 15 until February 7.
However, it is keeping the pressure on submitters and the scheme's promoter, Hawke's Bay Regional Council, to shorten the timetable if possible.
"The board's expectation is that the hearing schedule will be condensed," submitters were told in last week's email.
With a large number of expert witnesses appearing before the board, it has asked lawyers at the hearing to save time by working together to ensure "unnecessary repetition is avoided" when witnesses are cross-examined by more than one lawyer. The board has a statutory requirement to report back to the Government by April next year and a spokeswoman for the Environmental Protection Authority, the agency overseeing the process, said that timing remained in place.
Last week, the board also turned down a request from environmental groups to engage an independent expert to assess an environmental impact model, TRIM, put forward on behalf of the council.
Peter McIntosh, regional manager for Hawkes' Bay Fish and Game, one of the environmental groups involved in the application, said he suspected the tight timeframe was behind the board's decision not to engage its own expert.
In the board's written decision, its chairman, Justice Lester Chisholm, said: "Both sides rely on numerous expert witnesses to support or discredit the TRIM model (as the case may be). Undoubtedly, this evidence will be carefully tested by cross-examination at the hearing."
Gary Taylor, of the Environmental Defence Society, another submitter questioning the TRIM model, said even though it would be hearing cross-examination, the board "may need technical advice in order to understand the evidence".
Mr Taylor has previously said he has serious concerns about the fairness of the inquiry process because of the demands placed on submitters and the tight time-frames.
"The process is one where there is a great deal of pressure. I think that pressure generally favours the applicant rather than the submitters," he said.
"It's not the board's problem, it's a problem with the framework and the timing. This is a very difficult process to engage meaningfully in for a submitter."