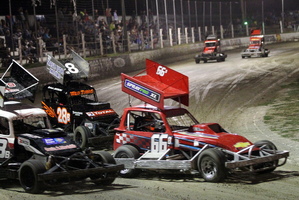 Memo Hawke's Bay kiwilite driver Courtney Edgar's boss: Give the bloke a pay increase.
Edgar flipped his car eight times in the first heat for his nine-strong class at ZM Meeanee Speedway on Saturday night and miraculously escaped with only a graze to his elbow. Edgar could have been excused if he had left the meeting early and headed home for a sleep.
However, the security officer told the 2996 spectators he would be going to work as soon as the meeting finished.
Edgar and clubmate Rob Simmons went for the same gap and Edgar was forced up the fence, which produced the flips in the non-contact class. After this incident Adrian Kramer won all three heats in the class.
Superstock action saw Hawke's Bay driver Tony Meechan rolled for the second time in as many weeks. Australia-based Rotorua driver Michael Aulding rolled Meechan on lap six of the 12-lap feature for the 14-strong class.
The Tony McIntosh Memorial Trophy was up for grabs and in addition to Aulding, the Hawke's Bay-based Palmerston North-contracted pair of 1NZ Shane Penn and world invitation champion Andy McCabe fronted. With consistent lap times around the 17.74s mark and two firsts and a second, Penn won the trophy in yet another polished rehearsal for the Meeanee-hosted January 2, 3 and 4 nationals. McCabe finished three points behind and the Hawke's Bay pair of Quinn Ryan and Steve Jude tied for third, nine points behind Penn.
Hawke's Bay stockcar driver David Persen rolled during another entertaining night of racing for his 16-driver class. The roll came as he exited a rut in the feature.
Heat two saw Tony Palmer put fellow Bay driver Nick Powell into the wall.
The Bay pair of James Tollison and Grant Hollyman along with the Hawke's Bay-based Palmerston North-contracted Aaron Iremonger all had wins in this class. Iremonger did well to record first, second and third placings in his quest for track time on a tighter track in the buildup to the Huntly-hosted teams event.
While Palmerston North national champions Paul Humphrey and Ben Franklin and two former national championship-winning crews, the Palmy-contracted Mike Zachan and Duane Johanson and the Hawke's Bay-contracted Russell Stuart and Andrew Parker, were among the nine sidecar crews, they couldn't stop the in-form Hawke's Bay husband and wife pair of Kim and Kerry Johnston from winning the Tony Bailey Memorial Cup.
An entertaining 20-car demolition derby which lasted 30 minutes ended the meeting. Former Hawke's Bay ministock driver Kristy Smith won the $300 first prize after surviving the longest.