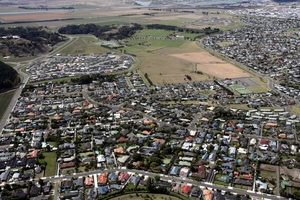 The squeeze on banks' lending to house hunters with small deposits is putting pressure on Hawke's Bay property values but first-home buyers are still getting on to the property ladder with less than a 20 per cent down payment.
Property value figures suggest recent mortgage lending restrictions are holding back house prices as first-home buyers shy away from the challenge of securing a mortgage with a low deposit.
From October 1, the Reserve Bank has enforced new loan-to-value ratio (LVR) restrictions, which restrict the amount banks can lend to home buyers who have a deposit of less than 20 per cent.
But Hawke's Bay market commentators say first-time buyers shouldn't give up hope as many people are still managing to sign up for non-bank mortgages with deposits of just 10 per cent.
Options include the government-backed Welcome Home Loan scheme or using non-bank mortgage providers such as locally based credit union NZCU Baywide, which are not subject to the LVR restrictions.
"The first-home buyer market has virtually dried up overnight," said Elanor MacDonald, managing director of real estate firm Leaders.
"The handbrake really came on and where we would have had several buyers queuing to view a new listing [first-home buyer style] now we would be lucky to have one. We think this is due to a lack of awareness with first-home buyers, especially in regards to the Welcome Home loans. These are still very available for buyers with a 10 per cent deposit. Low deposit loans with a slighter higher interest rate are also available from NZCU."
Mortgage broker Stuart Dowie said banks were still working through their lists of pre-approved low-deposit clients whom they had agreed to lend to before the LVR restrictions came into place, but were otherwise approving very few mortgages for home buyers with less than a 20 per cent deposit.
He had been securing lending for clients with 10 per cent deposits through the Welcome Home scheme and via non-bank lenders. "Activity levels are down a bit but the activity that there is has been of a much better quality than it was," Mr Dowie said.
NZCU Baywide's chief operating officer, Grant Porter, said the credit union had been offering low and no-deposit home loans for some time and its rates and charges were competitive. "From what we have seen in the marketing, many first-home buyers are investigating their lending options, whether with a bank or a credit union," he said.
The LVR restrictions were designed to help improve financial stability and reduce rapid house price inflation as property values skyrocketed in Auckland, but fears they would hurt real estate markets in regional New Zealand - including Hawke's Bay - appear to be proving correct.
Quotable Value figures show nationwide residential property values have increased 2.7 per cent in the three months to the end of October. Despite the introduction of LVR restrictions, the Auckland market continues to rocket ahead, up 4.8 per cent over the three months. In comparison, Hawke's Bay prices have been muted, with values in Napier down 0.5 per cent, Hastings up 0.6 per cent, Central Hawke's Bay up 1.9 per cent and Wairoa down 0.3 per cent over the same period. Quotable Value research director Jonno Ingerson said that, while it would take several months for a clear picture to emerge on the impact LVR caps were having on the market, the restrictions would cause low-deposit buyers to reconsider their options.
"If a significant number of these first home buyers drop out of the market, then volume and values will be affected," Mr Ingerson said. "In Auckland and Canterbury in particular, where there is very high demand for property, the impact may be felt less. If some first home buyers decide to drop out, there will still be other willing buyers. The lower number of first home buyers also offers opportunities for property investors.
"Outside of Auckland and Canterbury, and particularly in the provincial areas where demand is lower, the LVR caps may have a larger impact. The removal of first home buyers will leave a gap in the market that may not be filled and so prices would decrease further."
Quotable Value described Napier as "a key area that has seen a small decline over the past three months, with the LVR changes already starting to impact first home buyers".
Last week a report from another valuation company, My Valuer, said while the Hawke's Bay property market had been very strong through winter, the usual spring bounce had been "significantly influenced" by LVR restrictions.