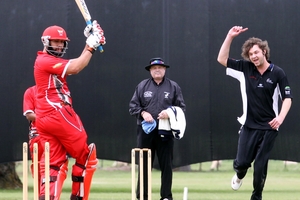 The power of numbers is never more evident than when used in the context of an entire day's cricket competition.
Some individual and collective statistics go a long way to explaining why the opening round of the JMP premier men's club 50-over Hawke's Bay competition on Saturday is hopefully an aberration this summer.
In the three games, the six teams bowled 105 wides - never mind the no balls, byes and leg byes.
Cornwall v Taradale
Sharpies Golf Range Taradale were the biggest culprits, gifting Heretaunga Building Society Cornwall CC 31 wides, adding to a paltry total of 88 all out in 27.2 overs.
Not surprisingly Cornwall won by 12 runs although the hosts returned the favour with 17 wides.
John Jowsey top scored with 22 runs for Cornwall while Taradale's Baden Wilton (3-12) and Artwall Nambanje (3-13) were the pick of the bowlers.
Taradale were 76 all out in 20.2 overs with extras the top score on 20 while Callum Hewetson and Taf Mpofu (Chiweshe Tafadzwe) scored 19 each in a pitiful scorecard of six ducks.
Cornwall's Liam Dudding claimed 6-13 from 8.2 overs, including a maiden.
"It's terrible cricket ... with batsmen giving it a hoick and getting caught in the field," Cornwall club director of cricket David Black said, adding there were 10 catches in the game.
On a slow wicket that kept low, batsmen were guilty of playing too early.
"They needed old-fashioned, gritty innings but no one put their hand up," Black said.
He attributed wides to too much swing, especially from Jayden Wiggins, who opted for cross-seam deliveries to contain the beast.
CHB v NTOB
The hosts posted a giggling score of 32 in their run chase at Forest Gate Domain, Ongaonga - three runs shy for any premier team - in the 132-run routing.
Complete Flooring Napier Technical Old Boys, gifting Ruahine Motors Ford Central Hawke's Bay only one wide, posted 164 all out in 38.3 overs after CHB won the toss and shone the ball.
Indika Senarathne's 70 runs from 68 balls, including 11 boundaries, was the cornerstone of the visitors' innings.
Angus Schaw took 3-27 while Charlie Robson, Driaan Lubbe and Jake Chalmers claimed two scalps each.
In reply, CHB were skittled for 32 in just 14.4 overs on a sorry scorecard that had a cellphone number look about it - no double figures, three ducks and two batsmen scored a run each.
Tech's Craig Herrick claimed 6-14 from seven overs, including two maidens, while fellow opener Stevie Smidt chimed in with 4-17 from 7.4 overs, including a maiden in the 132-run routing.
That prompted NTOB skipper Morten Freer to label the pair the best club bowlers in the Bay.
"Craig and Stevie are the best. It was raining a lot [last week] so the pitch was quite green," Freer said, lauding Senarathne for scoring a third of the game's total.
However, he felt his team didn't bat to their potential.
"We should all be batting to 50 overs on great grass wickets here."
No doubt there was some acid in the game after CHB snatched the 55-over crown from NTOB the previous weekend.
"CHB smashed us last time so it's one-all, I guess. You could say there's a bit of redemption today," Freer said.
CHB skipper James Mackie didn't play bat/pad.
"They bowled well and we were terrible with the bat so it was pretty embarrassing," Mackie said, adding this Saturday another day.
He felt the wides were due to players adjusting from the relaxed red-ball bowling in the 55-over competition to the stringent white-ball, white-line adjudication.
Former NTOB coach Dale Smidt recalled Tech were on the receiving end in 1979, with the then Dave Caldwell-captained side skittled for 29 runs at Nelson Park No 2.
"I joined Tech a year later but I remember reading it in the paper," Smidt said of the Old Boys Hastings CD pair of Wayne Greenstreet and Rick Ellis (Lindisfarne teacher) ripping through NTOB on Labour Day weekend in the former Watties one-day tournament.
NOBM v Havelock
This game at Nelson Park, Napier, was the only one that had a limited-overs look and feel about it on Saturday.
The Station Napier Old Boys' Marist racked up 188-9 in 48.3 overs without captain/coach Mathew Sinclair.
Opener Jesse Singh was unbeaten on 111 runs from 142 balls but no one hung around with him.
Craft and Hern Havelock North bowler Sam Prescott took 3-11 from six overs, including two maidens, but skipper Todd Astill rested him due to an injury.
Veteran medium/slow bowler Jared Priest stepped up with 2-28 from 10 overs, including a maiden.
In reply, the villagers eclipsed the total with 190-4 in the six-wicket victory.
Ben Fair scored 68 runs from 71 balls while Graeme Tryon was 51 not out, earning the man-of-the-match award from Astill for taking 2-35 as well.
Josh O'Brien took 3-23 for NOBM.
"We couldn't get Jesse out. He played a few shots shy of the field so he was hard to set a field to with his unorthodox batting," Astill said of Singh.
"He doesn't play traditional cricket shots but he's obviously seeing the ball well."
Astill lauded his go-to man Priest for having the ball "on a string".
Like Cornwall, Havelock North have qualified for the national club champs playoffs because their games doubled up as qualifiers on Saturday.
Their names will be drawn to see who plays last year's qualifiers CHB and runners-up NTOB before the elimination final on December 21-22 to progress to the CD playoffs.