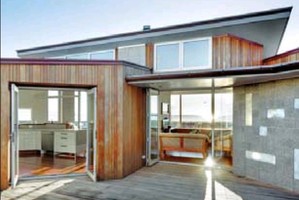 Napier's new MTG Hawke's Bay building and the Farmers department store in Hastings St have stood out at the New Zealand Institute of Architects' 2013 Gisborne/Hawke's Bay Architecture Awards announced at Church Road Winery in Taradale on Friday night .
The buildings were applauded for their "innovative handling of a strong architectural heritage".
Napier architect Marie Fleming, the convenor of the awards jury which also included architects Chris Wilson and Les Clapcott, said that in a city where the Art Deco movement was enthusiastically embraced it was pleasing to see two buildings that gave a definite nod to history.
"Without blindly following a style and that melded well into their streetscapes."
Opus Architecture's design of a new wing at the MTG Hawke's Bay won an award in the Public Architecture category.
It was, the jury said, a "self-assured and carefully detailed contemporary expression of a classical design that hints at Napier's Art Deco legacy".
Opus also won an award in the Heritage category for the MTG redevelopment project.
The jury said the architects were respectful of Louis Hay's original design in the refurbishment of an early 1930s building, sensitively reinstating the Art Deco entry and the central circulation zone in a manner that allowed visitors to rediscover the building's "lost" architectural style.
Paris Magdalinos Architects' approach to the design of the new Farmers store was recognised with an award in the Commercial Architecture category. The architects had incorporated elements of two existing heritage buildings while at the same time providing their clients with a productive trading environment.
The department store, the jury said, successfully expressed "big box retail", while retaining the scale of the existing buildings and incorporating two historic facades.
Ms Fleming said there was an exciting breadth of entries in the awards ranging from small projects to large buildings.
She said that residences awarded in the Housing category, sited in areas from Mahia to Waipukurau, indicated that architect-designed homes were becoming healthier and more energy efficient.
"Many parts of Gisborne and Hawke's Bay experience high winds and temperatures, and the design of all buildings should take this into account," she said.
"The planning in the houses we awarded is outstanding, and the architects had responded to site and weather conditions."
The Maryknoll Chapel in Taradale designed by Architecture HDT Hawkes Bay received an award in the Small Project Architecture category for an "honest and simple" design with a striking beehive-shaped form, and a "peaceful and calm interior".
Three other projects received awards in the Small Project category - new public toilets in a well-used Hastings park and two refurbished baches.
Citrus Studio Architecture's design of the Flaxmere Park public toilets got the nod, as did Wilson Jack Architects' transformation of a two-storey fibrolite bach into the Domney House at Ahuriri.
The third winner in the Small Project Architecture category was a house in Te Awanga that had been revamped by Atelier Workshop.
Architecture HDT Hawke's Bay picked up a second award for the Portside Chambers in Ahuriri, while Clarkson Architects picked up an award for Irvine House, which had been built in a residential area on the edge of an industrial zone in Waipukurau.
On Napier's Westshore, Gavin Cooper Architect was acclaimed for Faulknor House, a contemporary home for a retired couple, around a sheltered internal courtyard.
Godward Guthrie Architecture won an award for Macintrye Holiday House in Mahia, Irving Smith Jack Architects was recognised for OffSET House at Makarori Beach and Bevin and Slessor for the 1 DP House in Havelock North. All winners of the 2013 Gisborne/Hawke's Bay Architecture Awards will be eligible for consideration for the top tier of the annual Architecture Awards programme, the New Zealand Architecture Award which will be announced in May next year.