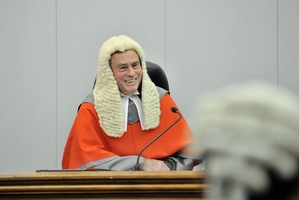 The Green Party has criticised the make-up of the board of inquiry into the Ruataniwha dam project, after it emerged inquiry chairman Lester Chisholm was given the job ahead of candidates with more relevant experience.
Environment Minister Amy Adams appointed Justice Chisholm, a former Napier lawyer and retired High Court judge, to chair the inquiry ahead of two candidates recommended by officials - retired Environment Court Judge Gordon Whiting and Environment Court Judge Jeff Smith.
The revelations came in papers released under the Official Information Act by the Environmental Projection Agency that is overseeing the inquiry process.
The papers also reveal officials had noted Justice Chisholm would not be able to begin his work as chairman until several weeks into the nine-month timeframe set for the inquiry.
"The board of inquiry into the Ruataniwha irrigation scheme has been carefully chosen by the Government and does not include anyone with water quality experience," Greens co-leader Dr Russel Norman said yesterday.
"This is the National Party picking favourites instead of being prudent economic managers, and the cost to the taxpayer and the environment will be enormous."
Dr Norman clashed with Prime Minister John Key in Parliament yesterday after the Greens said Treasury documents showed large irrigation projects such as the Ruataniwha proposal did not make economic sense.
"Treasury found business cases for the Government's irrigation projects were low quality and that it would require significant due diligence to get them to a passible level."
But the Prime Minister told Parliament the Government continued to support irrigation projects because of their potential to provide significant economic advantages.
"There have certainly been projects where irrigation schemes have made a significant economic difference to New Zealand," Mr Key said. "As we know with the South Island, probably one of the fastest ways, actually, to lift economic growth in the South Island would be to ensure that there is irrigation."
Hawke's Bay Regional Council, which is proposing the Ruataniwha dam and associated Tukituki River catchment water scheme, says the project would create more jobs in a region - both in the construction phase and as a result of the more intensive farming that would be possible once water from the scheme becomes available to farmers.
An economic impact report has estimated the scheme will increase regional GDP by a one-off $350 million as a result of both on-farm and off-farm investment.
The five-person board of inquiry will begin five weeks of hearings into the proposal on November 18.