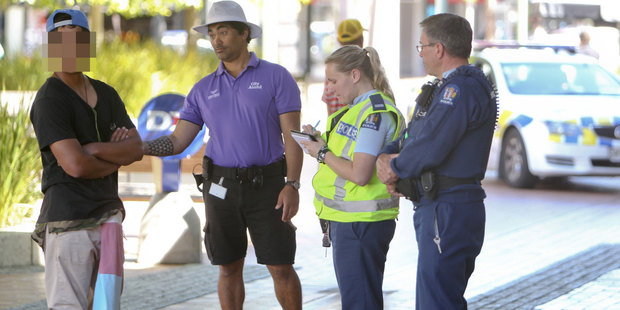 Police and retailers are praising the Hastings City Assist guardians after two incidents of public disorder in the CBD were broken up within minutes following quick calls from the guardians to local authorities.
The first incident involved an altercation between young people about 11am opposite Farmers yesterday morning.
A second incident occurred about two hours later outside the Westpac bank between two groups of young people.
A witness said police were on the scene almost immediately.
"There were two groups who looked like they might have had some sort of altercation, there were three police cars there, pronto. The response was incredible. It shows the systems are working."
Police said the young people were "to-ing and fro-ing" from various courses when the altercations broke out. There were three arrests and they were given formal cautions.
The spokesperson credited the guardians for alerting police quickly.
"It indicates they are working, they're our eyes and ears on the street."
Councillor Sandra Hazlehurst said the incident highlighted the strong connection between the police and the guardians.
"They've totally lifted the code of conduct in town and that's the level of behaviour that we want," she said.
Cr Hazlehurst said feedback from retailers, shoppers and tourists had been positive.
"The retailers are rapt, visitors and shoppers feel safe, the guardians are always quick to say hi."
Ian Yarlett operates a barbershop on Heretaunga St West and said the change in the CBD was instant when the City Assist took effect.
"Seeing the City Assist guys up town: they know what's going on and how to handle it. It has definitely worked," Mr Yarlett said. "The police, Maori Wardens and City Assist all working together," he explains. "The city has a better feel about it."
Paper Plus owner Janice Beaumont said they were also good for visitors because they talked and helped people.
Mr Yarlett said he would like to see City Assist continue past the pilot of six months.
"They've got to keep City Assist going, and it needs to be extended to include Countdown and Pak 'n' Save. It can't be forgotten about because it's been so effective," he says.
"We're all on the same page: we want a safe city that's a nice place to shop and we want people to feel comfortable and good about bringing their kids in to town - with the help of City Assist, that's what we've got now."