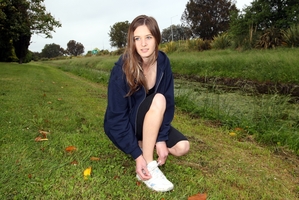 Life changed for one local girl the day her younger brother was diagnosed with a brain tumour, but she says the support of CanTeen has helped her to deal with the journey.
In just over a week 16-year-old Laikyn Noone will once again take part in the annual Mitre 10 Megawalk where all funds raised go to the charity.
Laikyn resumes the role of ambassador this year after twice previously acting as one.
"I was asked to do it for this year, it just means you represent CanTeen, you do a lot of promotional stuff. It's definitely important for me to be involved, I think it's really cool that I can give something back to CanTeen. I love the walk and the fact that all of the funds are going to a great cause."
She first became involved with the charity three years ago after younger brother Brayden was diagnosed with a brain tumour aged 7.
"Once I turned 13 I was eligible to join CanTeen and I have countless memories with the people in it.
Many times when I was struggling with the situation with Brayden I had support from so many other members in CanTeen.
"It is hard to find someone to talk to who can really understand what you are going through and relate to your situation yet CanTeen made this a whole lot better."
Being a CanTeen member means Laikyn can take part in three camps a year and monthly activities with other members.
"I was able to be in an environment where people didn't judge me for who I was because everyone respects what you have to go through. I was able to get away from home for a day and have fun allowing me to escape everything that was going on just for a bit, which really helped me a lot."
Laikyn credits CanTeen for helping her to deal with Brayden's cancer and said the friends she has made will be life-long.
"A lot of the people there are siblings like me. I've made friends from all over the country, who have helped me, [especially] in being there for my little fighter of a brother Brayden."
Brayden is too young to join CanTeen but Laikyn said he "definitely" will once he turns 13.
"He's good now but the cancer he had can't class him in remission."
The walk takes place next Sunday, November 10, and there are four events to cater to all abilities. The Mega, a 28km run or walk, which begins in at Mitre 10 in Hastings and ends at Mitre 10 in Napier, the Hawke's Bay Today half mega, a 15km run or walk beginning in Awatoto, the MoreFM short mega of 6.5km or finally the Mega Meander, a 3.5km walk starting in Ahuriri.
* For more details on how to enter the Mitre 10 Megawalk, go to http://www.megahb.co.nz/MEGAWALK/