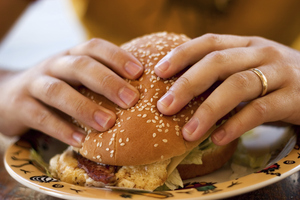 I'm loath to utilise editorial space for a food review.
But before you lot start, I was working yesterday while most enjoyed a labour-less Labour Day - so cut me some slack.
Initially I'd planned to grab a burger from Carl's Jr, but in the interests of the consumer decided to compare the three burger joints contesting the Heretaunga St junk food dollar.
With my wife's trusty digital scales I pulled into McDonald's, Burger King and Carl's Jr to grab a Big Mac, Whopper and The Big Carl respectively.
Here's a quick synopsis:
Big Mac - $5.60, 202grams.
Whopper - $6.90, 252grams.
The Big Carl - $6.90, 319grams.
Given satiety affects taste buds I (initially) consumed only one third of each to maintain an impartial palate.
The Big Mac was perfectly stacked, like the capital's Beehive. The lightest, but so was its price tag. Strangely it was the hottest - but least flavoursome.
Then there came the unmade bed courtesy of The Big Carl. It unwrapped pre-digested and overwhelmingly sodden. As a serving suggestion I'd recommend a raincoat. Ironic that the soggiest burger was the only one that came without serviettes. On the up its pattie was by far the tastiest.
Burger King's Whopper was reasonably landscaped but a tad onion- and pickle-heavy. Its lettuce a boiled cabbage colour and with the smallest pattie.
Please take this the right way. I'm complicit with the fast food industry. I'm so familiar with these establishments that yesterday I spotted a former McDonald's employee working the Carl's Jr counter - with a new kid in town there's been a bit of burger-flipper flip-flopping.
But ever thus was the beauty of competition.