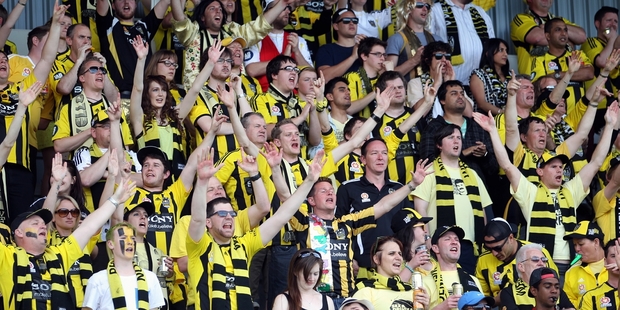 The crowd of more than 1000 Yellow Fever fans echoed around McLean Park yesterday afternoon and those asked said they welcome an annual fixture in "tropical" Napier for the Wellington Phoenix.
Phoenix season member Rob Stewart drove to Hawke's Bay on Saturday from the capital for the match against the Newcastle Jets.
Making the trip with him were fellow Wellingtonians and season members Kathryn Blake, Jo Draper, and Steven Hunter who all praised the fixture.
"It's really tropical up here, there are palm trees and everything. It's a great place to come up for the weekend," said Ms Draper.
"It's at least five degrees warmer up here than Wellington, it's a nice trip north and the atmosphere in here is great," said Mr Stewart.
"The weather is good, we will definitely come back if they do this again."
The four joined in the echoing Yellow Fever chants throughout the match, which included 'Just can't get enough (of Durante)' and 'The Brockie Kiss Medley' in support of players Phoenix players Andrew Durante and Jeremy Brockie.
"It's harder to get to Christchurch for the other game, and it's a nice drive up here, you can make a real weekend of it," said Mr Stewart.
"Napier is going to be rowdy tonight, we will probably have to go somewhere where no one usually gets a drink so we can all fit in."
The Yellow Fever fans were instrumental in creating the atmosphere Sport Hawke's Bay commercial manager Kevin Murphy was hoping for.
He said he hoped at least 8500 fans would fill the park for a successful event that would lead to potentially more A-League games in Napier. The official crowd figure was 9020.