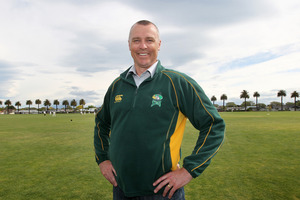 No one ever knows the impact they can have on others simply because they turn up to share a few life experiences as speakers, regardless of how minute that impression may seem to them at the time.
For Craig Ross that moment of sway came from then cricketer John Wright during a school assembly at Karaka Primary School when he was a Year 8 pupil.
"John is a humorous person but a hard-working guy who talked about how much fun cricket was and how lucky he was at that stage of his career," he says of the man who was a player when the one-day cricket concept was finding traction in the 1980s.
"The effort to go to talk to a young player could mean a Black Cap of the future so investing in our youth and inspiring our next generation is part of the plan," says the 43-year-old Central Districts director of cricket of the man who went on to liberate cricket-mad India from the burden of public expectation to the giddy heights of one of the sport's elite nations.
Ross, who assumed the mantle of the newly created position with CD cricket last summer, is critical of Sky TV's accessibility to only 50 per cent of households in New Zealand.
Consequently the former Northern Districts Knights player says that means scores of children are deprived of the opportunity of seeing their heroes and emulating them. "I think it's a shame. When I was a kid everyone could watch sport on TV and then run outside to pretend to be a hero.
"That's what it is now to be a kid in New Zealand," says Ross who is adamant the very scattered and fragmented nature of CD's geographic sprawl in fact makes the region stronger.
"For me it's about getting good coaches in front of our young players. It's not a handout so that's what I believe makes CD great."
A youngster who was embracing badminton, athletics and rugby suddenly found himself gravitating towards the summer code at the age of 11.
Before that he would watch teams such as the West Indies on TV with two other brothers before expending that energy and enthusiasm in the backyard lawn in typical Kiwi fashion.
"The three boys played for hours, competing against each other informally."
The lad from Papakura, South Auckland, didn't graduate to formal, organised team cricket competition until he was a Year 8 pupil before going on to make various age-group Counties teams.
Now at the CD headquarters, Ross relishes his integrated role with Napier-based Scott Briasco (development officer of amateur cricket) and district manager Nigel Brooke, of Horowhenua-Kapiti, as well as the professional aspect of working with new Devon Hotel Central Districts Stags coach Heinrich Malan, of South Africa, who all report to Ross.
"They are all very experienced so it's pretty easy to work with these guys."
A "provincial person", Ross finds working and living in the CD catchment area "a breath of fresh air".
He, Hastings-born wife Lou (her father, Bruce Stobie, was involved in the Tomoana meatworks for a long time) and their three children, Jasper, 11, Rogan, 9, and Ava, 3, live in Havelock North and are "loving it".
Tragically, in 2008, the couple lost a baby daughter, Kayla, after her umbilical cord got knotted before childbirth.
"She would have been 5, between Roger and Ava, who is our blessing," he says.
The transition from dairy farming Hamilton to the Bay has been relatively smooth for the Rosses.
"The people here are fantastic and have a passion for games."
He is the middle son of Karaka farmers Joan and the late Garth Ross, who died suddenly in May this year.
Older brother Jimmy and the younger Wayne, farming in south-west Victoria, Australia, all played cricket for Pukekura Metro Club where ex-Black Cap Simon Doull and brother Lincoln Doull, now Property Brokers Hawke's Bay senior men's representative coach, were members, too.
Ross and CD Stags assistant coach/manager Lance Hamilton were Counties rep teammates although the latter belonged to the nearby Pukekura Cricket Club.
From 2006-12, he was the high performance development coach for ND, primarily honing the skills of young pace bowlers.
The former ND Knights played 17 first-class games and 10 one-dayers as a right-arm opening bowler.
A back injury eventually curtailed the career of the former New Zealand age-group representative who opened with the likes of ex-Black Caps all-rounder Chris Cairns in a squad that included other ex-internationals such as Shane Thompson and Mathew Hart.
Ironically Ross made his Knights debut at the age of 19 against the Stags in Nelson.
He is indebted to renowned junior coach Allan Whimp who took him under his wing at the age of 12.
Remarkably Ross had the foresight to coach voluntarily as a 15-year-old.
"I was probably a little young but I always had an affinity to help people so that's just how I am, I guess."
He went into a sales career when an uncle, Graeme Findlay, an electrical appliance proprietor from Pukekohe, kept his job on the backburner despite the demands of overseas tours with the NZ age-group teams.
On leaving cricket, Ross persevered as a salesman but kept stoking the fire of voluntary coaching.
"After two years I realised I missed cricket," he says, harbouring no regrets about playing an abbreviated eight-season career.
He reconciles that with the belief that even the great Sir Richard Hadlee must feel he could have carried on longer.
"[The injury] has left me to help other cricketers and have an empathy with them on how difficult cricket can be with injury," Ross says, also mindful of grappling with the demons of rejection when ND coaches dropped him when competition for seamers was rabid.
He rates ex-ND mentor Bruce Blair as the best coach educator in the country. He worked for the NZ Academy of Sport and is now developing coaches with New Zealand rugby.
"Even though I've made the most of my opportunities I've been very lucky to come across these people along the way."
Coaching gives him a sense of satisfaction and eradicates the frustration of injuries.
Balancing a family life means he has curbed the desire to scale the heights of elite coaching of domestic or international cricket.
A four-month stint with former ND coach Grant Bradburn, when Andy Moles was appointed Black Caps coach, gave him a thoroughly enjoyable experience but also a taste of how demanding a job it can be.
"Being on the road for five or six months in a year and not being near family is something I wouldn't be looking at at this stage of my life."
He has, though, secured a role with New Zealand Cricket as pace bowling resource coach.
With Shane Bond looking after the Black Caps, he and Dale Hadlee guide the rest of the pace-bowling programme.
"That's a role that works well with the CD role ... so I'm still coaching and learning about coaching."
Ross feels CD cricket is in a good place with quality coaches in the districts.
His added value comes in the form of a CD-wide plan to not only complement the existing structures but also align the districts with the breed of players CD is trying to develop.
Malan and trainer Nick Webb, a former New Zealand Warriors fitness guru, are part of that matrix.
"You're only as good as the people around you so I'm very fortunate."
He lauds Briasco and Brooke's passion which gives him latitude to focus on the NZ Provincial A programme for CD.
"Part of the plan was to extend that programme, which we have done, and now it's to grow the competition under the Stags is our long-term plan."
His first task on arrival was challenging the CD board on its recruitment and retention policy of players.
"We have no issues with players coming into the area but they must understand that they have to become part of CD.
"We want players to live here and be part of that moving forward," he says, adding the likes of Carl Cachopa and Ajaz Patel have come from Auckland but basing themselves in the CD region is imperative.
Another hot issue when he toured the region was the feeling among the far-flung districts of CD disenfranchising them in the selection process.
"That is certainly not the case. That's not what we're trying to do here. If you are a good player in Blenheim or Masterton or wherever you are in CD there's a good pathway for you," he says.
While Malan is young, his enviable coaching experience ensures not only a winning mentality but also catching the eye of national selectors.
Just like Cachopa, the next step up for the Stags is an NZ A berth.
"We've already got Ross [Taylor] and Dougie [Bracewell] at New Zealand level, and Chops [Cachopa] is not far away but they have to see that as the next level."
CD value making an impact at a level that yields wins.
For Ross the HRV Twenty20 competition is the commercial model where CD provide an opportunity for the Stags to win so they can savour international experience at the World Club Championship.
To do that requires CD to see what other major associations are doing although emulating some who have signed four imports isn't feasible. "If we don't do that [get marquee players] we'll find we'll start lagging behind the rest," says Ross.
The four-day Plunket Shield campaign, however, is predominantly for the Stags squad.
With the split between shield and T20 matches this summer, CD will have to give imports a mixed bag.
Two English imports are earmarked for this season although only Peter Trego has been confirmed to return for a second season after a premature end to last summer due to injury.
"We feel if we can have our pros here for a longer time than it's a better fit for CD," he says, adding the reluctance from Big Bash franchises in Australia to release players means CD have to look further afield to entice imports.
"Even though cricket's professional we're still not at the level where we can't have an open chequebook policy to pull four or five marquee players at different levels."
Money, Ross says, isn't poured just into the Stags but they have to look at justifying expenditure in relation to developing the game, including women's cricket.
The management of players in the transition from T20 to shield matches is pivotal to ensure players' attitude doesn't take a hiding should they fail in the glitz and glamour stakes of the shorter form of the game.
Webb and physiotherapist Justin Mills will drive a fitness regime to ensure players don't break down, either.
"At times we may have to rotate players depending on where the loading is at."
Last summer, CD suffered from an unbelievable effort to lift the four-day shield.
"It took so much out of the players that we fell completely flat in the Ford Trophy [one-dayers] a few days later ... so we've learned from that."
When players are mentally shattered, sports psychologist Gary Hermansson comes into play.
"As much as we say players are paid to play they are not machines," says Ross.
"They are human beings so emotionally it takes a lot out of them."
Forming two squads isn't the answer, he reckons.
"I think all players can play the longer format but there are some players who are more prone to playing T20 and one-dayers."
In terms of T20, CD's pace attack is still relatively young but Ross believes under pressure they will have to learn.
The Wellington Firebirds host the Otago Volts from tomorrow in the shield match at New Zealand's home of long-form cricket, the Hawkins Basin Reserve.
ND Knights and Auckland Aces are next at Seddon Park from Thursday while CD open their defence against Wellington from Monday, November 4.
Ten rounds of shield competiton will be split across the summer. The first half will be played before Christmas and the rest from late January.
A new initiative means some teams will play the same opponents back-to-back at different venues for an international series feel.