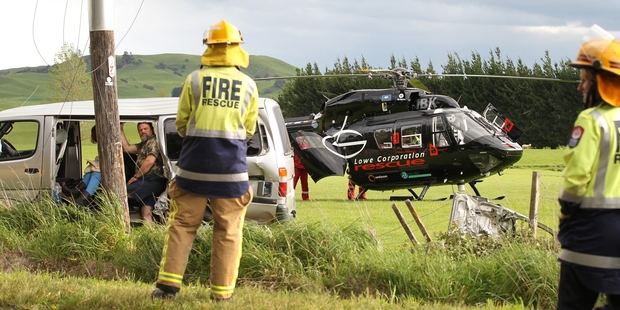 A father and his twin teenage daughters were taken to hospital yesterday after the van they were in crashed, bringing live power lines down on Taihape Rd.
Waihare electrician Mitch van Cooten said he was travelling with his wife Nicky about "30 seconds" behind the van at about 4.35pm. When the couple came around the corner, near the Taihape Rd and Otamauri Rd intersection, they noticed the father, in his 40s, stumbling up the road dazed from the crash.
"We pulled up and it was obvious the van had hit the bank and gone into the power pole sideways," he said. "The two girls were still in the van."
He said the impact ripped off the side door of the vehicle but the girls, 17, were disorientated and injured, with the live damaged lines lying around the van.
"The power lines had come only about a metre from the van, if they had landed on the van it could have become live as well.
"My wife, looked after the father, who was in shock and tried to keep him awake, while I went to check on the girls," he said. "I told them to stay in the car because they couldn't see properly from the injuries and I didn't want them stepping out onto the lines. Being an electrician and having done a first aid course, that definitely helped."
He said the safest place for the twins to stay was in the car until the power had been cut. Unison Networks turned off the power to the broken lines, enabling rescue crews to free the trapped girls.
St John district operations manager Stephen Smith said the Lowe Corp Rescue Helicopter airlifted one of the girls, who had suffered head injuries, while the other twin and father were taken to Hawke's Bay Hospital via ambulance with cuts and abrasions.
Mr van Cooten said that section of the road was becoming notorious for crashes after seeing one "every couple of months".
A hospital spokeswoman last night said both girls were in a stable condition, while the father was expected to be discharged.