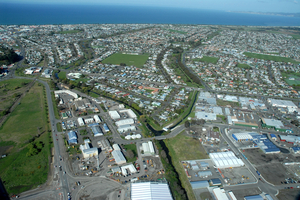 Hawke's Bay is undergoing a "rural to urban" population shift as more people fill the cities of Napier and Hastings while rural numbers decline.
According to Hawke's Bay census figures released yesterday, the region has experienced a total population increase of about 2 per cent with 3396 more people in the area than there were in 2006.
Napier city and Hastings district accounted for most of the growth, with the populations of Central Hawke's Bay, Rangitikei and Wairoa districts all declining - which an academic attributes to an "internal shifting balance".
National Institute of Demographic and Economic Analysis director Natalie Jackson said Hawke's Bay had grown slightly more than anticipated. That was mainly due to Napier and Hastings growing more than projected and offsetting a greater-than-anticipated decline for Wairoa and Central Hawke's Bay.
The University of Waikato professor of demography said: "For Hawke's Bay I'd say the issue isn't so much about the growth in Napier and Hastings, but about the internal shifting balance, rural to urban, which is really widespread in the area."
She said Central Hawke's Bay was a new addition in decline, joining areas such as the Far North, Hauraki, Rotorua, Kaikoura and Christchurch, as a result of the 2011 earthquakes.
University of Waikato Professor of Population Economics Jacques Poot said in an ageing population such as New Zealand's, a greater emphasis was placed on "lifestyles".
"People are increasingly attracted to warm and sunny and often coastal places. Many peripheral rural areas are losing population due to farm holding becoming much larger and more capital intensive, while young people move to the large cities."
Government Statistician Liz MacPherson said Hastings district and Napier city had population growth of just over 3 per cent and Hawke's Bay's population of 151,179 made it the ninth-largest region in the country.
"Hawke's Bay's population grew between 2006 and 2013, but not quite as quickly as it had in the five years before that," she said. "Most of the growth came from the wider Hastings and Napier areas."
The Hastings district had seen a population increase of 2403 since 2006, with its population reaching 73,245.
Hastings Mayor Lawrence Yule said he was pleased to see growth in the district but was worried Hawke's Bay was falling behind its competitive regions.
"The problem is we are still behind many other regions. Apart from the Ruataniwha Dam, I don't think or see any other strategy to aggressively and systematically bring growth to Hawke's Bay."
He said he was "worried" to see a region such as Nelson, with the second-largest growth behind Auckland, doing so well, because it was comparatively similar to Hawke's Bay.
"When the economy gets difficult, people look for opportunities elsewhere and people leave the regions. We have seen this with people leaving for Australia and the bigger cities."
Despite Hawke's Bay having the "best lifestyle and climate", he believed local leaders needed to seriously discuss how to encourage people to come to the Bay and keep young people from leaving.
Napier MP Chris Tremain said Hawke's Bay needed to be "comfortable" with growth that could see Napier City exceed 60,000.
Napier's population is 57,240, according to the figures, an increase of 1881, 3.4 per cent, since the 2006.
Mr Tremain said: "I think it's important people understand that without growth it's difficult to deliver the level of services people want their government, whether it be local or central, to deliver."
Napier Mayor Bill Dalton said it was good to have growth, and over the next three years he hoped to help create the environment in which businesses would be providing more employment in Napier.
"We don't want to grow willy-nilly," he said.
"But if you're talking about growth based on economic development and encouraging families to want to live in Napier that is what we would want to achieve."
Former List MP and Labour Party Napier spokesman Stuart Nash agreed it had to be "the right sort of growth - people bringing their families".
More figures and analysis due to be released by the end of the year would provide "interesting" extra detail about Napier, he said.
"I would like to know more about why the numbers have fallen in Maraenui, whether it's the housing situation, or whether it's people going to Australia for job opportunities," he said.
"We don't want to hollow out the workforce."
The figures show the Maraenui population had dropped 12.6 per cent, to just 3093.
The census confirmed what the people of the Wairoa district had suspected for some time - that the region's population was in major decline.
The population of the district slipped under the 8000 mark, coming in at 7890, and posting a 6.9 per cent drop since 2006.
In the 12 years since the 2001 census 1026 people have moved away.
The town of Wairoa itself is now close to falling below the 4000 mark.
In 2001 the town's population was 4428, in 2006 it was 4272 and in the latest census it is logged as 4053.
The population decline was one of the primary focuses of incoming Mayor Craig Little.
"There has been a massive population decline and we have to turn that around."
He said attracting businesses, in particular those involved with the dairy industry, which he believed Wairoa had a potentially strong future in, was crucial.
Mr Little said the lifestyle and tourism appeal of the district also held strong potential, and moving forward on upgrading and sealing the State Highway 38 through to Waikaremoana was already in his sights.
Central Hawke's Bay has seen its population drop from 12,957 to 12,720 since 2006, and Central Hawke's Bay Mayor Peter Butler said it was hard to tell from the statistics where or why 237 people had left the area since 2006.
He said if the Ruataniwha Dam was built the region would see a population increase similar to Ashburton.
"We know people are going to come if we build the dam," he said.
"We are going to need people to run the farms, engineers, irrigation, extra school teachers, doctors all sorts."
Chamber of Commerce chief executive Wayne Walford said Hawke's Bay would prove attractive to people with family ties in the region, while also recognising the "burgeoning positive energy and strength" of the region and lifestyle opportunities.
He said when looking at people moving into urban zones it was hard to know how much of the Hastings and Napier populations could be classed as traditionally urban.
Mr Walford said one of the reasons population growth in Hawke's Bay had slowed was a reflection of a struggling national economy.
"The slowing of growth is always about the economy, with housing development slowing and people's disposable income down, population growth will be slowed." Statistics New Zealand is due to release more detailed census figures and demographic analysis in the coming months.