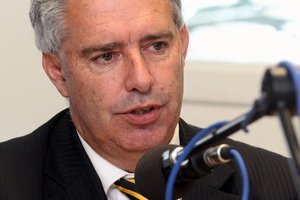 Hastings District Council incumbent Lawrence Yule has been elected to serve his fifth term as mayor, following the preliminary results of about 98 per cent of returned voting papers in the district's local government election.

Hastings people have also voted in favour of keeping fluoride in the district's water supply, according to results from the Hastings Fluoride Referendum held alongside election voting.
Mr Yule received 11,049 votes, a majority of 5168 over his nearest mayoral challenger
Havelock North man Wayne Bradshaw (5887), with Simon Nixon third in the mayoral race (4704). Mr Bradshaw and Mr Nixon will return to council after polling among the top eight candidates in the new Hastings-Havelock North Ward.

Also re-elected to that ward, incumbents Cynthina Bowers (8234), Sandra Hazelhurst (8070), Kevin Watkins (7996), Mr Bradshaw (7711), Mr Nixon (7353) and John Roil (6773). New councillors elected to the ward included Malcolm Dixon (7387) and Adrienne Pierce (6166).
Incumbent Scott Henderson did not achieve enough votes for re-election (5810) while incumbent Margaret Twigg did not seek re-election to the ward.
In the Heretaunga Ward, incumbent Rod Heaps returns (1860) and Goerge Lyons joins the council for the first time (1585) taking the seat left vacant by the departure of incumbent Ru Collin who did not stand for re-election.

In the rural Kahuranki Ward, incumbent Mick Lester (1021) returned to claim the single seat ahead of his challenger David Mackintosh (816).
Incumbents Henare O'Keefe and Jacoby Poulain did not have any challengers for the two seats in the Flaxmere Ward. Similarly, incumbent Tania Kerr stood unopposed in the rural Mohaka Ward.
In the Hastings Fluoride Referendum, which asked whether people wanted to keep
fluoride in the water supply or not, 9512 vote ``for'' and 56461 voted
``against''. The voter return for the referendum was 43.07 per cent, which was 22,228 voting papers, excluding voting papers in transit to the processing centre and special votes.