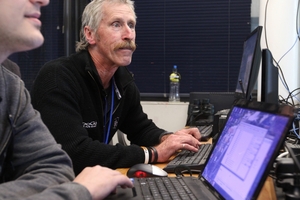 When referee Glen Jackson blew fulltime at Napier's McLean Park on Thursday night scoreboard operator Paul McGettigan was just as ecstatic as the Magpies players.
"What a way to chalk up my 300th ... I'll leave that score up as long as possible," McGettigan texted yours truly after the Magpies 35-24 ITM Cup win against the previously unbeaten Wellington Lions.
A former Napier Marist senior twos player, McGettigan, 57, has been the scoreboard operator at the Hawke's Bay Rugby Union's headquarters since March 2000. His tally of 300 games at the venue includes club matches, Magpies games, Super Rugby and international fixtures.
Before his "promotion" to this role McGettigan, who is better known by his nickname of "McGoo" was the Magpies mascot or the "old Kahu."
He pointed out his scoreboard role was almost the same now as when he started.
"There's no sound, no television match official up with me and no sports ears. When we have Super games the TMO is up with me during ITM Cup games the TMO is down at ground level," McGettigan, based at the back of the Chapman Stand, explained.
The scoreboard he feeds the info onto was previously based at Dunedin's Forsyth Barr Stadium until the end of the 2011 Rugby World Cup. During the World Cup McGettigan was subbed off his scoreboard duties so he took on an usher's role in the Chapman stand.
"I hear we're getting an All Blacks game next year ... I'm looking forward to that one." McGettigan said.
A sales manager at Mitre 10 Mega when he isn't at the park, McGettigan, has scored four Super Rugby fixtures, two games between the Hurricanes and Bulls and two between the Crusaders and Chiefs. He rated Thursday night's match as "one of the best" he had scored.
"It was a good one for Ginna," he said referring to Graham Weber, the father of Magpies manager Neil Weber, who died last weekend.
Another of his most memorable games was the Magpies 2001 NPC division two 30-27 semifinal win against East Coast.
"That was the day we were invaded by East Coast supporters. They took over the old McKenzie Stand as well as the bulk of the Centennial Stand ... that match had massive feeling as did our Ranfurly Shield encounter against Counties-Manukau," he recalled.
On match day McGettigan, who is a keen race walker, has a ritual of walking around the park to get a feel of the atmosphere before setting up his scoring equipment.
His involvement with games at McLean Park dates back to 1992 when he was the graphic artist for rep match and club game programmes until 2001. McGoo got his nickname when he bought a raffle and put the name McGoo on the butt.
"I won the raffle and the name has stuck since then. My father once wore McGoo glasses to a party so its a bit of a family tradition."
Yours truly couldn't let "McGoo" chalk up his 300th without naming his best Magpies XV from his last 13 years at McLean Park. It is:
Israel Dagg, Jason Kupa, Jason Shoemark, Davis Norman, Zac Guildford, Matt Berquist, Donovan Hall, Mike Coman, Karl Lowe, Michael Johnson, Bryn Evans, Brodie Retallick, Clint Newland, Hika Elliot, Sona Taumalolo.