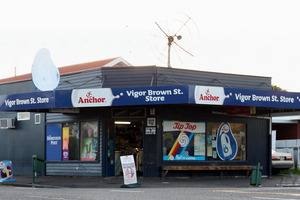 A Napier dairy owner is the first in Hawke's Bay to be charged with offences under the new Psychoactive Substances Act.
The owner of the Vigor Brown St Store faces one charge of selling a psychoactive substance from an unauthorised premises and one charge of selling a psychoactive substance without a licence.
Under new legislation introduced last month, dairies, food stores and supermarkets cannot sell the product. Retailers selling the product also need to apply for a licence to do so.
The penalties for selling from an unauthorised premises include a fine of up to $10,000, while the penalties for selling the product without a licence include three months' jail and a fine of up to $40,000.
The dairy owner will appear in Napier District Court tomorrow.
Sergeant Nigel Hurley said police were receiving a steady stream of information from the public about the sale of synthetic cannabis in the area.
"There is a very strong community resistance to the sale of these products and people are concerned about what they are doing to their children and whanau. The legislation prohibits the sale of only some brands of psychoactive substances, which means there are many more still available for sale.
"Anyone selling the product now has to be licensed and they must sell it from an authorised premises," Mr Hurley said.
Currently 28 products have been granted a temporary licence, being sold from around 110 licensed retailers nationwide and the authority was in the process of referring all products with interim approval to Environmental Science and Research for testing to ensure consistency and compliance with licence conditions.
Police said they would continue to monitor local retailers, especially those believed to be selling the product illegally.
Last month about 300 demonstrators took over the Hastings city centre to rally against the sale of legal highs. Also last month, a 12-year-old boy who attacked a man in Hastings was high on synthetic cannabis at the time of the attack, and in August Greenmeadows residents and shop keepers shut down a new store selling synthetic cannabis on Gloucester St.
Mr Hurley said police were keen to hear of any information about the illegal sale of synthetic cannabis in the Hawke's Bay area. Anyone with information should contact Napier Police on 06 8310700 or the Crimestoppers line.