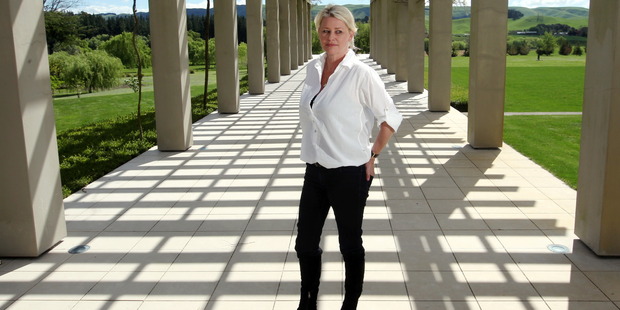 Lady Deborah Holmes sits at the end of a long wooden table in the glass atrium of the home she shared with late husband Sir Paul, her husband's wedding ring hanging delicately on her chest.
Bathed in sun and surrounded by immaculately manicured grounds, it's easy to see why the pair sold their Auckland home and moved to Mana Lodge six years ago.
Sir Paul purchased the Poukawa property, south of Hastings, in 2000 and later described it as his "treasure".
Yesterday, his widow welcomed Hawke's Bay Today to the property to talk about her decision to put the lodge up for hire as a luxury lodge and move herself to the property's gatehouse.
Two months ago she packed up her personal belongings and with the help of some friendly neighbours made the move down the driveway.
It's not hard to see why she wouldn't want to be alone in the palatial house, which boasts six bedrooms, two sitting rooms, a large kitchen, office and an atrium complete with piano.
"I really like it down there, it's a good size for me. The main house does take a lot of work and upkeep and that's really the reason behind the move to open it up for weddings and functions and it really does lend itself to that."
Hiring the house out for functions and group accommodation is something she hopes will allow the property to start paying for itself.
"It is a blank canvas. Groups can self-cater, or we can source a private chef. It's about designing your own experience, whether that's a wedding or a weekend away.
"It's Paul's legacy, it's such a beautiful place and he was so passionate about it. It needs to be full of people, it's the sort of house that just cries out for that."
The couple were married here in 2003 and since hosted the weddings of various friends at the venue.
"We know it works. We had about 160 people at our wedding but it was still intimate, everyone is kept together but you still have the space."
It was a wedding that brought the two back to the Bay in 2000, when they first heard about the property and decided to take a look.
"Paul being Paul he decided he wanted it. It really was being surrounded by the hills and the peace and the tranquillity that appealed. At the time it really appealed to him because he was working two jobs and it was very hard for us to be able to go away in the early days. We'd have to go overseas to get that privacy. It was really hard for us to book somewhere and have a holiday and feel like we'd be left alone."
The house and gardens were quite different back in 2000.
"The gardens took years, ongoing for about 10 years, we did those first. We really concentrated on the garden, well Paul did, he was the gardener and loved that sort of stuff. He'd get in there and get his hands dirty but a lot of it was big scale stuff, so we had diggers and landscapers but he'd always be out on the ride on and planning new gardens and things."
She highlights the small bridges he painted red because he ended up with too much red paint after renovating one of the rooms inside, the tree trunk that took three workers and a whole day to get right and various flowers he planted himself.
While he was busy in the garden, she took charge of the house.
"We didn't change too much of the internal design but that was probably more me, Paul didn't really have a huge interest in houses and interiors."
The house, despite being devoid of the couple's personal belongings, still feels homely.
His office has been left as is, with cartoons depicting the broadcaster on the walls.
An investiture ceremony for Sir Paul was held at the house back in January. "He was going to make that no matter what."
She said a close friend arranged for the ceremony to be held at the lodge when it became apparent how ill he was.
The honour was something he was determined to be a part of.
"I can't remember who said it but he always used to repeat a quote 'Don't give me a time, give me a deadline'. He was pretty sick so around that time we'd give him little deadlines. He did very, very well to get to the investiture and he made our wedding anniversary too. That was sort of the last thing on his bucket list. It was a really nice thing for him."
Despite the move to the gatehouse Lady Deborah, who is originally from Auckland, says she now considers Hawke's Bay and Mana Lodge home.
"For the time being this is what I'm doing and I'm happy with it.
"It's probably a bit too early to be making any life- changing decisions."
For more information on the lodge visit manalodge.co.nz