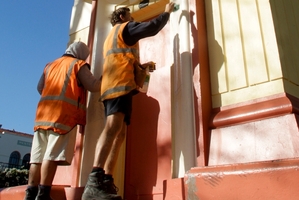 The writing is on the wall for graffiti vandals intent on leaving their dirty mark on Hastings.
Police, Hastings City Business Association and Hastings District Council are joining forces to combat the culprits at a time when they are expected to most active.
Hawke's Bay Today understands council staff focussed on removing graffiti from the CBD on Friday morning before the organised march against legal highs.
The following Monday council staff returned to their rounds in the city centre to find new tags had been left by vandals, especially around the Hastings clock tower and the Landmarks Square reserve on Warren St.
The council's projects and public space manager Russell Engelke said there were a few jobs logged in the system from the weekend but "nothing out of the ordinary".
"The bulk of the weekend issues are reported by 10am on a Monday and often dealt with."
Weekend reports included graffiti on a wall at Akina Park, on a pool fence at Havelock North, on a wall at Totara Health in Flaxmere, at toilets in Flaxmere, the Hastings clock tower and the door and seating underneath the tower.
"This number of reports is relatively normal after a weekend, however we are expecting a slight increase during the school holidays."
Senior constable Bruce Grimshaw said police kept a photo record of graffiti and tags appearing around Hastings city.
"The dossier we keep goes to our intel section and if we catch a person we believe is responsible for graffiti we're able to look at previous tags on our records to see if we can make a match.
"There is always an upsurge in graffiti and tagging during the school holidays, that is a matter of fact.
"It is wilful damage, an offence, which can lead to imprisonment."
Mr Grimshaw said graffiti would be a major focus for police heading into summer.
"Graffiti is right up there among the things we are looking for in the CBD, to make sure it's safe for shoppers and retailers.
"Police will be having an increased presence, we also have the Maori Wardens and the civic assist people all operating in the city. They don't have any powers to arrest but they can certainly share information with police so we can work together."
Hastings City Business Association general manager Susan McDade said the organisation and its members were working with police on options to "fight back" against graffiti vandalism.
"Graffiti will happen in any urban environment and it is definitely something that has picked up in the last little while with the extra kids we are seeing in town.
"We have the city assist programme which should combat a wide range of negative elements in the CBD, stuff like graffiti and shop lifting."
Mrs McDade said the Hastings night markets start next month and putting in place a security plan for the initiative was a priority.
"It's important that with the extra people around the city CBD, that shoppers and retailers feel safe and comfortable, that it is a friendly, family atmosphere."