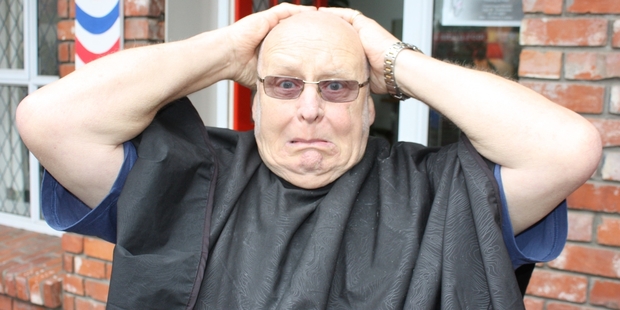 Around the world Dannevirke's Max McFarland is known as the Snowman, a name which had little to do with his ice cool attitude, but more to do with his snowy, white locks.
Now, 46 years after the last time he had a close shave, Max has allowed a barber to give him a number one, shaving it all off for charity.
"I don't know why I didn't keep my big mouth shut when Murray Cushing challenged me to this shave-off," Max said.
However $1000 had been raised and there was no way Max was going to be allowed to cry off the bet, even though a freezing southerly was blowing through town as he became as bald as a badger.
Murray and Max host radio shows on Radio Dannevirke and when the challenge was made, there were plenty of listeners keen to contribute and keep Max true to his word. With Murray playing Elvis Presley's All Shook Up, last week at the start of his programme, there was a hint he knew what was coming next.
"It's too cold for Max to get his head shaved today," he insisted, just as acting sergeant Carey Williamson of the Dannevirke Police arrived to haul Max away to the barber.
And with Ernie Walker from the Dannevirke RSA playing the Last Post, barber Maria Edwards began shaving Max's hair, much to his horror. The sergeant urged onlookers to contribute to the cause, while John Hart, president of the RSA, commented that being bald had taken 40 years off Max's life.
Maria said Max "had a really nice head for a zero cut".
The money raised is being donated to St John's Anglican Church hall to pay for an alarm system and the Growing with Grief programme which offers peer support for children and young people who are missing someone important from their daily lives. The loss may be due to the death of someone close, the separation or divorce of parents, having a family member in prison or other major family change.
The programme is available for those aged between 5 and 12 years.