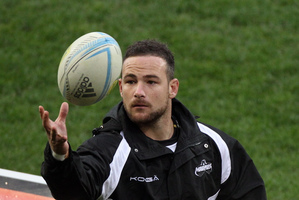 Alby Mathewson's cheeky grin and chatter returned during the Hawke's Bay Magpies rugby side's game last weekend.
That was an indication Mathewson was returning to form after a mid-season slump and a positive to emerge from the Magpies' 18-9 loss to the Tasman Makos in the Nelson-hosted ITM Cup Championship top-of-the-table clash.
"Things have been a bit frustrating since our loss to Counties Manukau. A few one-on-one tackles have been missed and there have been a few skill errors," Mathewson said.
"Against Tasman we were in the game for three-quarters of the match before a couple of missed tackles let us down."
In addition to being frustrated with the Magies' form slump, Mathewson, 27, has also seen his deputy Chris Eaton step up and outplay him.
"Chris had good games against Taranaki and Northland. We're similar types of players and he was playing well," Mathewson said.
With Eaton's training being restricted by a groin strain this week Mathewson, a 2008-10 All Black, has the opportunity to re-establish himself as the Magpies' first string halfback when they host North Harbour in an eighth round clash at Napier's McLean Park tomorrow.
The 2010 Super Rugby player-of-the-year has an extra incentive to perform well against Harbour. Like his Magpies teammates, Mathewson will be wearing his club socks, in his case Tamatea's.
Although Hastings Boys' High School product Mathewson has yet to play for the Tamatea premiers he has strong family ties with the club. Mathewson's grandfather, the late Bill Mathewson, was a life member of the Tamatea club and his uncle, former New Zealand Colts representative Alex Mathewson, played for Tamatea.
"It was pretty special when I was given my Tamatea socks after the Northland game and I'm glad Hawke's Bay allocated me to Tamatea," Mathewson said.
Unlike many of his Magpies teammates Mathewson doesn't have the pressure of trying to impress Super Rugby selectors. He has a second consecutive one-season contract with the Perth-based Western Force side next year.
"All I have to worry about is helping the Magpies earn a semi-final berth and hopefully promotion back to the Premiership. With that in mind this week's game is a must-win one.
"I hear the weather is going to be good so hopefully we can show some of our attacking play. We are better when we keep the ball in hand," Mathewson said.
A former Hurricane and Blues Super player, Mathewson will decide after the next Super season if he will return to the Magpies next year. If he doesn't score a Europe-based contract he is likely to.
He pointed out his partner Cara Webber, who was one of the Bay's top swimmers and surf lifesavers during her Woodford House days, and 3-year-old son Nixon are enjoying their stint in their home province.
"We go out for lunch and take Nixon up to the scooter park on Napier's Marine Parade. Cara has had plenty of time to catch up with friends and while I haven't done that as much as I should I will soon," Mathewson said.
Needless to say a win tomorrow will provide a perfect topic for discussion should he fit in a visit or two before travelling to Invercargill on Wednesday to prepare for Thursday night's match against the Southland Stags.
Among the key players in the Harbour side are captain and hooker James Parsons and prop Ben Afeaki and All Black midfielder Francis Saili and dangerous winger David Raikuna in the backs.
Former Magpies midfield back Tua Saseve is likely to get game time off the bench.
The 12.45pm curtainraiser to the game will be a C grade rep fixture between Hastings West and Hastings East.
From 1.15pm-2pm the 10 non-playing Magpies will have a signing session and hand out giveaways behind the Harris Stand.
All junior players who turn up to the match in their club shirts will gain free entry.