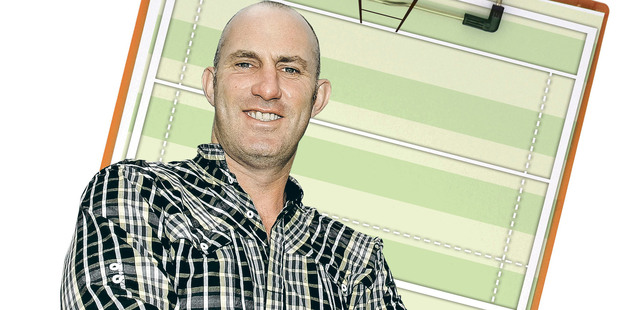 One win from seven games and development of predominantly club players high on the agenda, it begs the question: "What is North Harbour's motivation?"
Low-lying clouds threatening to burst their seams create havoc with cellphone reception but there's no mistaking Harbour coach Liam Barry's crystal clear response.
"The actual competition, sport, family, God, money," Barry replies as he weaves in and out of the Auckland motorway grid.
He continues, emphasising the individual catalysts give way to a collective impetus as the Northerners try to resurrect their ITM Cup fortunes. They languish in sixth place of the lower-tier Championship table.
"The bottom line for the coach (is) to have them [players] singing from the same song sheet for the people of North Harbour."
Whether Barry's boys hit that note at McLean Park, Napier, in the 2.35pm kick off this Sunday remains to be seen but the task at hand against the Hawke's Bay Magpies is of Herculean proportions.
The challenge for Barry and his assistant, Alex O'Dowd, is equally imposing considering their squad is predominantly a chorus of young voices with only three Super Rugby-calibre players.
Consequently, Barry feels that's why his team battle gallantly but fall shy towards the end, amid suggestions the coaching stable need to scrutinise "the next part of the puzzle".
"I'm talking about base football over here," the former All Black explains.
When coaches inherit Super Rugby players they simply have to focus on an added value to ensure they fit into the NPC matrix with aplomb.
"With the club players it's a whole different situation at the ITM Cup level," says Barry, adding his Magpies counterpart, Craig Philpott, and assistant Danny Lee will allude to that.
Primarily, any piecemeal gains this winter for the James Parsons-captained North Harbour outfit will accrue incrementally to capital gains next year.
The Mike Coman-skippered Magpies will, without doubt, have put a must-win tick next to North Harbour who arrive here as underdogs.
That is not to say the hosts will dare run on to McLean Park on Sunday with such a mindset.
The Magpies' favouritism isn't lost either on Barry, who was appointed the Hawke's Bay Rugby Football Union academy manager in 2004.
New Zealand's only third generation All Black, Barry played 10 games for the ABs from 1993-95 and 83 games for North Harbour over a decade, from 1992-2002, during which time he spent five seasons playing in Japan.
The son of 1962-64 All Black Kevin Barry and grandson of 1932 and 1934 AB Ned Barry, Liam Barry had joined current Magpies fitness trainer Grant Dearns, under the-then coach Kieran Keane (now Tasman coach), to try to help the province regain first-division status.
"Yes, they were good times," says Barry of an era when he assisted in nurturing academy-age players from Poverty Bay and East Coast in assuming the mantle of regional caretaker.
"It's great to see some of those guys from the academy days still now playing for the Magpies."
They include flanker Karl Lowe and midfielder Adam Brady. Others he was involved with included Bryn Evans and Hika Elliot, who have moved on overseas and to Ranfurly Shield holders Counties-Manukau, respectively.
Barry, who commented on the number of Cantabrians in the squad, is sure that southern element will rise to the top when the Magpies hit the business end of the Championship playoffs from Friday, October 18 to Sunday, October 20.
The presence of Pacific Island names in the squad suggests North Harbour will not be shy to throw the ball around in Counties-Manukau fashion but Barry isn't getting carried away.
"Flair is no good if you don't do the core things well. You might not have the ball so it's all about guys playing their roles and positions first before [executing] any nice touches."
It is, Barry believes, one of the closest competitions with just eight points separating the bottom dwellers from the leaders.
"One win means we're second. Northland play Tasman tomorrow night [tonight] so if they claim five points they'll be in the top four."
Tasman ground down the Magpies 18-9 at a windswept Trafalgar Park, Nelson, last Sunday to end the visitors brief stay on the top rung.
Bonus points have been a feature of the Championship as teams jostle for places.
Despite four losses, the Magpies sit in second spot with three wins from seven matches with three bonus points.