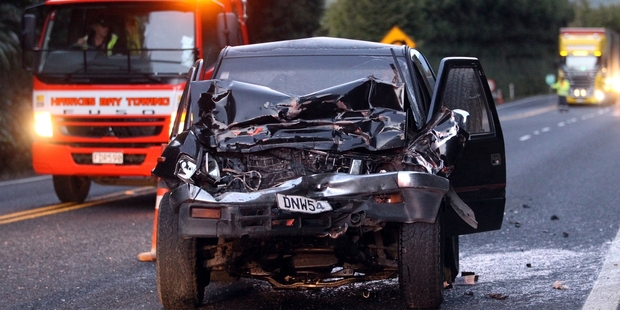 Hawke's Bay's road toll is heading for a new half-century low with the total already running at less than a third of last year's total and half of the previous lowest in at least 40 years.
Ministry of Transport figures provided to Hawke's Bay Today show roads in the Wairoa, Hastings, Napier, Central Hawke's Bay and Tararua districts had claimed just five lives this year to the end of last weekend.
It compares with 17 at the same stage of last year, which included two multiple-death crashes which killed eight people in Northern Hawke's Bay.
Otherwise in the last decade, the January 1-September 15 toll has varied from a high of 25 in 2005 to 10 in 2007.
Full-year totals available to Hawke's Bay Today for the last quarter-century range from 16 in 2008, to 55 in 1990, and it was previously often higher.
Of the deaths in Hawke's Bay this year, just two have been in the Hastings District, neither of them on State Highways 2 and 5 which historically dominate the region's road tolls, including the region's worst ever crash when eight people died at Mohaka Bridge on SH5 in 1995.
Last year there were nine deaths in the Hastings district by mid-September, while the highest annual toll in the district in the last quarter-century was 26 in 1990.
Of the other deaths this year, there had been one each in the Wairoa, Napier and CHB districts, and none in Tararua, which includes Dannevirke.
The death of a 90-year-old woman after a crash on State Highway 2 south of Wairoa on June 28, the last fatality in the area, is the only death recorded this year on Hawke's Bay's major highways.
Meanwhile, the national toll is also tracking to a half-century low. By the end of last weekend, there had been just 183 fatalities, well under the 199 at the same stage of 2011, when the annual toll of 284 was the country's first under 300 since 1952.
Police Eastern Region prevention manager Chris Wallace believes several factors have contributed, including improvements to roads, lowering of drink-driving limits and lifting the driving licence age to 16, police enforcement, and campaigns, including the work of organisations such as Roadsafe Hawke's Bay.
But he warned projections are that there will be more fatalities by the end of the year, and police will be striving to help keep the numbers of tragedies down.
"It doesn't take long to think back to the tragedies last year in Northern Hawke's Bay, and another near Gisborne," he said.
Police activity will include road safety operations around the Hawke's Bay Show and Labour Weekend and increased presence on roads leading to the Christmas-New Year holiday season.