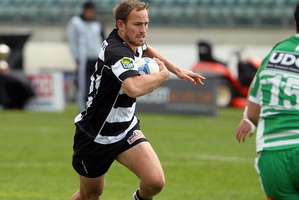 Wind the clock back to the Hawke's Bay Magpies week of Ranfurly Shield glory earlier this month.
Without doubt the bloke most unlucky to miss the win against Otago and the defence against Counties-Manukau was Chiefs utility back and two-time Super Rugby title winner Andrew Horrell.
"It was pretty tough watching those matches. But it was awesome to see the boys bring the shield back to the Bay ... it made you appreciate what it meant to the province," Horrell, a Magpie since 2009, said.
"Now it's great to be back out playing with the boys," second five-eighth Horrell, who played the last 29 minutes of last weekend's win against Northland and will have his first start of the season for the Magpies in tomorrow's seventh round ITM Cup Championship match against the Tasman Makos in Nelson, said.
Horrell's return is a timely one as the match will decide the outright leaders in the competition and the Makos boast a quality midfield combination in second five-eighth Tom Marshall who will join Horrell at the Chiefs next year and centre Kieron Fonotia.
"I played with Kieron back in Christchurch and Tom is pretty useful. But we've got a handy midfield combo too," Horrell said, referring to himself and former Hurricane Richard Buckman.
Horrell, 25, played with Fonotia in Canterbury age group teams. While it has been several years since then Horrell's knowledge on Fonotia will be valuable.
"This is a big game for us as Tasman is a pretty classy side. We just have to do the basics well," Horrell said. While Horrell has already secured another Chiefs contract through until the end of the 2015 Super season he still has a list of goals for the season.
"Obviously I want to help the Magpies return to the Premiership. I've also got my own individual ones like making more dominant tackles and fixing a few other little things."
Tomorrow's game will give Horrell an accurate gauge of how close he is to ticking the goals off.
Magpies head coach Craig Philpott said his troops have enjoyed the full week of training after playing three games in nine days the previous week.
"There's a pretty good feeling in the squad. The boys know it's a top-of-the-table clash and they want to make a real statement."
Horrell's replacing of Adam Bradey is one of four changes Philpott has made to his starting XV used in the "houdini" win against Northland. Adrian Barone replaces Brendon Edmonds at loosehead prop, Edmonds replaces All Black Ben Franks at tighthead prop and Hurricanes hooker Ash Dixon replaces former Junior All Black Ged Robinson.
Philpott pointed out while Edmonds prefers the loosehead role having a few starts and performing well in the tighthead role will enhance his Super Rugby prospects. Edmonds operated well when he switched sides against Northland. Crusaders wider training group member Adrian Barone is back to full match fitness after being sidelined with injury earlier this season and according to Philpott is "amping" for his first start of the season in the No.1 jersey.
Changes to the Magpies subs bench see Jesse MacDonald replace Dixon, Max Lahiff replace Barone, Bronson Neera replace Horrell and Regis Lespinas replace Neera.
MacDonald's brother and fellow hooker Quentin MacDonald will play his 50th game for the Makos. Lock Joe Wheeler and flanker Shane Christie are other handy forwards in the host side.
Along with the Makos midfield combo wingers Bryce Heem and James Lowe and fullback Robbie Malneek can be dangerous if given too much space.
MacDonald isn't the only Magpie with plenty of family connections. Captain and blindside flanker Mike Coman is anticipating plenty of grief from family members who will be supporting the Makos.
MacDonald's 1st XV coach during his days at Marlborough Boys College, Kieran Keane, the 2002-'04 Magpies coach, is the Makos head coach and another relative, former All Black Leon MacDonald, is the Makos assistant coach.