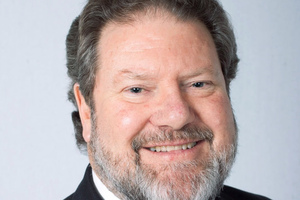 Napier mayoral candidate Bill Dalton, who declared his total opposition to amalgamation, emerged as a leading contender after a Hawke's Bay Today debate in the city last night.
A retired sharebroker, Mr Dalton claimed 47.5 percent of a non-scientific straw-poll vote after all six candidates spoke to more than 200 people at a meeting staged by Hawke's Bay Today, Newstalk ZB and the Hawke's Bay Chamber of Commerce.
School principal and company director Roy Sye, who heads a ticket named Positive+Change carded 29.3 percent of the vote, and sole female candidate and one-term councillor Michelle Pyke 9.7 percent.
Of the others in Hawke's Bay's biggest local body elections battle, David Trim, who like Mr Sye would be new to the Council if elected, polled 4.8 percent, heading sitting councillors Rob Lutter, with 2.7 percent, just heading Cr John "Bertie" Cocking, who, like Cr Dalton is not seeking re-election to the Council, seeking only the job of Mayor.
Invalid votes were 3.4 percent of those cast by secret ballot as the audience left the meeting at the Napier Sailing Club, mainly apparently seasoned voters with 20 or more local body or general elections behind them.
Moderated by Hawke's Bay Chamber of Commerce chief executive, Wayne Walford, there was standing-room-only for more than 30 of those present, highlighting a strong election interest in the Ahuriri and Westshore area.
Mr Dalton, who with former mayoral deputy Ian Dick launched a democracy and anti-amalgamation lobby in February, banged hard on the issue last night, saying he'd "led the fight" against amalgamation, but that the Local Government Commission "will tell us that we need to be amalgamated."
At that point, the public will have its say, and Napier needs a strong Mayor to fight for Napier's best interests, he said.
Mr Dalton also railed against those who had not been on the Council before making promises of what they could provide, without "any idea" of whether the city could afford them.
Highlighting he was paying his own way in the campaign, and therefore would not be "beholden" to any other backers, he said he also comes to the role with a great asset for the city in wife Shirley. Mr Sye, with at least three of his team's Council candidates present, said he's not standing "supporting amalgamation," but if it were to happen Napier "must be the administrative capital." Mr Trim doesn't want a "takeover," but says if it happens Napier will have to lead it, and will be a vibrant city regardless. The other candidates all opposed amalgamation, and there were varying views on sales of Council commercial leasehold land, although the four councillors in the race highlighted the issue is up for imminent consultation, with some likely relaxation on less-strategic parts of the property portfolio inherited by the City 24 years ago.
The sitting councillors all praised the financial position of the city, reported as being the most financially stable council operation in the country, with little debt, and asset-rich in the landholdings. "They are the crown jewels," Cr Lutter said. "We're certainly not going to sell everything."
Economic development and a Economic development and a desire to retain young people in the city, or at least make sure they return to settle with families, was a strong point of candidates, each unwittingly providing one answer when they collectively, in answer to a Hawke's Bay Today reader question opposed Hawke's Bay Airport going international.
Mr Trim teased he'd rather the council buy two airlines, one going south and one north, "shuttling all day."
Cr Pyke, backing wider community development, launched at Government on legislation allowing sales of psychoactive substances, saying a lot of issues are "tipped-onto" councils and "we have to deal with it".
"The Government were cowards," she said. Mr Cocking appreciated some concerns about public perceptions of council transparency, and said he'd hope to inform the public "better than we have."
Gold coin donations at the meeting went to Hawke's Bay Cancer Society.