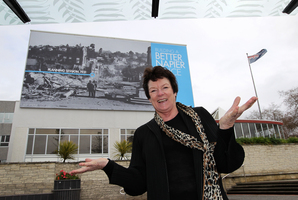 Westshore's Anita Finnema won't have to worry about shouting a drink or two if any of her out-of-town mates decide to head to Napier for a holiday.
Especially if they're visiting from Holland, from where she and her family emigrated 13 years ago.
Mrs Finnema is the first winner of the "Help Build a Better Napier, Invite a Friend" competition staged by the Napier City Council and was delighted to be handed an envelope from mayor Barbara Arnott on Monday. Inside was $1000, which could not have come at a better time as her parents-in-law had become too old to travel out to see the family.
"This will help us get over there to visit them."
She said she had no hesitation in entering the competition, which is all about inviting friends and family to Napier, through a specially designed website the council had built.
"The more friends you invite the more chances you have of winning," Mrs Arnott said.
More than 250 people around the country and overseas had been invited by friends and family - and Mrs Finnema had put out 66 invitations.
"Mostly in Holland where we have family and friends, but also some in Australia and around New Zealand."
She said after arriving in New Zealand and travelling around they "fell in love" with Napier and settled there.
"I love to tell everyone about it," she said, adding that included the many visitors she met when she acted as an Art Deco tour guide.
She also opens her home to young "Dutchies" who head to the Bay for seasonal work and working holidays.
"They go back and tell their friends all about Napier."
She is the first of five winners of the competition, which was rolled out in Napier Life magazine, with draws every two months through until next year.
When Mrs Finnema got the call from Mrs Arnott last Friday she was initially bewildered.
"She's not standing for mayor now so I wondered why she was calling."
When Mrs Arnott told her the news she had to apologise - for yelling so loudly with delight down the phone.
"I think she had a sore ear after that."