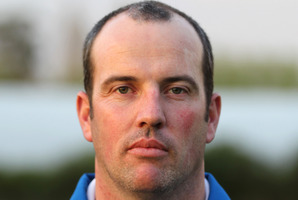 Anyone who has ever heaved a monkey off his back will know exactly how the villagers are feeling after their soccer feat.
Best Travel Havelock North Wanderers pipped Gisborne United 3-2 to etch their name on the Federation Cup on Saturday.
"I told them [Gisborne] not to ever put us through that sort of game again because my nerves can't handle it," Havelock North coach Bruce Barclay said from Childers Road Reserve in Gisborne shortly before the Blue and Golds hit the highway back to Guthrie Park, Havelock North, that night to attend their end-of-season prize giving ceremony.
It is the club's only silverware this year and the maiden bragging rights to the knockout Fed Cup achievement.
"It's a monkey off our backs so we're absolutely delighted," Barclay proclaimed, adding a Gisborne scribe reckoned he hadn't seen a game better than the final this year at the ground.
The villagers had two heart-breaking defeats in previous Fed Cup finals that went into added time and penalty kicks in the Central Football knockout competition's seven-year history. Consequently, especially for Barclay, who was a losing player in the encounters and was dreading another penalty-kick scenario, the historic victory will go a fair way to exorcising some demons.
Losing Gisborne coach Dean Wrigley said his gallant first-division men backed themselves twice to claw their way back but to no avail.
"What can you do? We're heartbroken but that's cup football," Wrigley said, revealing Gisborne United were rapt regardless of stumbling on the last hurdle.
"They were a better football team than us so our guys put their hands up today," he said. It rained in the morning but cleared for the midday kick off creating ideal playing conditions at the "killing fields".
His men, Wrigley said, showed "big heart" considering they were always up against it as underdogs.
"It was just a great final, mate," he said, adding key midfielder Kieran Venema had failed a rigorous fitness test not long before kick off.
Havelock North drew first blood in the 27th minute when Scott Saurin crisply finished off a square cross from the edge of the box to make it 1-0 after teammates broke down on the left flank.
It wasn't until after the breather that the hosts equalised 1-1 through striker Stu Cranswick in the 56th minute.
Said Barclay: "They had their tails up."
That spurred on Havelock North with Che Jesson-Bentley putting the visitors up 2-1 in the 61st minute.
Gisborne didn't panic and kept cohesively creating scoring opportunities. The second reply came in the 77th minute courtesy of Kieran Higham.
"My assistant coach, Duncan Martin, and I could only stand there and clap," Barclay said, going as far as putting the half-volley drive from outside the 18m box past goalkeeper Mitch Webber as up there with the English Premier League class.
"When you see a goal like that what can you do about it?"
With two minutes to go, Adam Kockleberg tapped the ball from 2m out to score the winner as well as shatter Gisborne United's dreams.