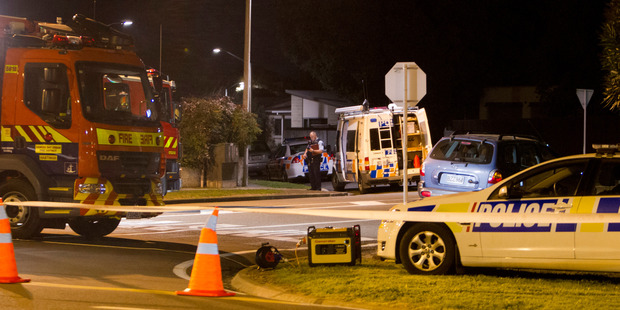 The man at the centre of a bomb scare which cleared a Napier neighbourhood of about 50 residents had "flipped his lid", neighbours say.
Other Sanders Ave residents described him as a "quiet sort of a guy" who had recently broken up with a girlfriend.
The alarm was raised about midnight and residents were finally given the all-clear seven hours later after the man was taken into custody and the house searched and declared safe. No bomb was found.
Police said the man was assessed by staff from the Emergency Mental Health Service Team.
Hawke's Bay Police Inspector Andy Sloan said the man was admitted for treatment and no decisions had been made at that stage over possible charges arising from the incident.
That decision would be made at a later time.
Investigating officers were speaking with family members and residents in the area to build up a picture of what led to the incident.
Police said the man's family had expressed some concerns about his wellbeing due to a "psychiatric condition".
It was not the first incident at the man's Sanders Ave rental property, a neighbour said, adding he understood there had been a domestic incident last year which resulted in someone arriving at the house and throwing a rock through a window.
"But this was something else - it seems his girlfriend ditched him and he's just flipped his lid."
The incident was sparked just after 10.30pm on Wednesday when family members, concerned at the 30-year-old's behaviour and safety, called police.
Officers who went to the house were confronted by the man, who waved a knife at them.
Homes evacuated
after bomb scare
They pulled back and called in reinforcements, including members of the Armed Offenders Squad, as the man barricaded himself inside and made threats that he had a home-made bomb.
Police immediately called in the fire service to go on stand-by as well as help with clearing nearby houses as negotiations with the man got under way.
An army bomb squad which had been exercising near Wairoa was called to the scene and later searched the property.
"I heard a tap on the window and it was my neighbour," nearby resident Mavis Vowden said.
"She said we had to get out quick because there was a bomb scare."
The neighbour, Sally Battison, had been woken by a member of the fire service, who with police officers, had gone door-to-door in the immediate area of the house where the man was holed up - which was about halfway along Sanders Ave.
"It was pretty scary," Mrs Vowden said. "We were told to head up to end of the road where it meets Herrick St."
From there the residents, many of whom had dressed but with some still in dressing gowns, were taken to the fire station in nearby Taradale Rd, where the Salvation Army organised cups of tea and food for the unsettled arrivals.
"They were marvellous and really looked after everyone - and it was nice to meet up with some other neighbours we hadn't met before," Mrs Vowden said.
Just three doors from the house, Peter Browne said he was woken by police at the door around midnight.
"This is such a quiet street - you don't expect that," he said.
He had stressed how quiet the area, and Napier as a whole, was to the teenage exchange student he and his wife had taken in just a week earlier.
The boy, who is attending William Colenso College, is from Mexico and had told the Brownes about the "guns and drugs" which were a huge part of the Mexican criminal scene.
"So there we were getting evacuated because there's a bomb a couple of doors away."
The student was not too worried about it, however, and had gone off to school as usual.
Mrs Vowden said police regularly updated the residents through the early hours.
"They were very good."
The man eventually walked out of the house about 4.30am and gave himself up to police.
Members of the man's family were also at the scene.
"We're happy that he's come out of the house safely and that nobody was harmed and we took the right precautions with the information we had," Hawke's Bay Police Inspector Tania Kura said.
Neighbours spoken to agreed.
"You don't take chances," Mrs Vowden said, adding the incident had reminded many residents of the Chaucer Rd stand-off between police and Jan Molenaar in 2009.