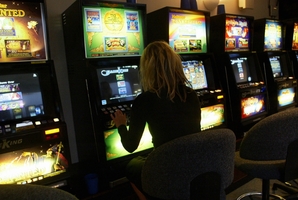 Community foundations and trusts failed to convince the Hastings District Council to discard its sinking lid policy controlling the number of pokie machines allowed to operate in the district.
The council voted six to three in favour of keeping the policy, which meant every time a gaming machine was removed or a venue closed, the number of machines permitted decreased.
The licence to operate gaming machines was tied to the property, not the operator. If a venue closed, there was a six-month period when a new operator could establish and take up the right to operate machines on the property.
A total of five councillors, including mayor Lawrence Yule, declared a conflict of interest because groups and organisations they were involved in outside of the council were benefactors of money from trusts which operated pokie machines.
It left nine councillors to consider 12 submissions and six of those were made in person to the council when it met yesterday.
First Light Community Foundation spokesperson Lloyd Singleton said the organisation wanted a flexible cap, where the population of Hawke's Bay would determine the number of gaming machines allowed.
Hastings' population was 70,842 and a ratio of one machine per 215 people was allowed. Hastings had 22 venues and 333 gaming machines were allowed but just 329 machines were operating across the venues.
Mr Singleton said the foundation had two venues in Hastings and it took problem gambling seriously.
"We are trialling a facial recognition system where an excluded player will be recognised by a camera in the machine. It focuses on the player and searches a database.
"We believe this technology will be used nationwide and make a huge difference to problem gamblers."
Mr Singleton said a majority of people on the database were "self excluded" and staff were trained to recognise and detect problem gamblers.
Infinity Foundation Limited spokesperson Gillian Wells said the organisation operated four out of the 22 gaming venues in Hastings.
The foundation applauded facial recognition technology but it would come at "a huge cost".
"We run the trust as a lean machine and the funding to put into that kind of technology would have to come out of grants, which would take away money from the community.
"The flexible cap is our preferred option," she said.
Problem Gambling of New Zealand Foundation spokesman Dick Johnston, based in Gisborne, asked the council to reduce the number of pokie machines allowed to operate in Hastings.
"For every person that has a gambling problem you can get up to 40 more being affected because you get whanau who have to pay out or lend money to the gambler."
"The fewer venues there are, the harder it will be for someone to pop in and gamble, to satisfy their dependency."
Hawke's Bay District Health Board's submission asked for the sinking lid policy to be retained and no new gaming venues or machines be allowed in Hastings.
Other submitters presented data which showed a reduction of pokie machine numbers in some regions did not result in a decline in problem gamblers.
They also argued the money from gaming machines which could be turned back into the community would decrease if the sinking lid policy was approved, and machine numbers decreased.