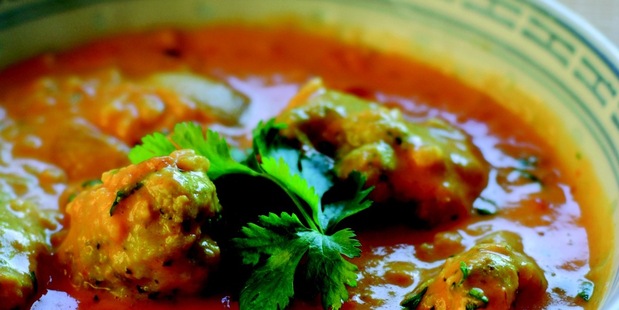 A colourful, nourishing soup, which warms the heart and belly, this is a genuine meal in a bowl. Add calamari, scallops or prawns if available.
INGREDIENTS
SOUP:
2 tbsp sesame, coconut or olive oil
1 onion, sliced
1 tbsp red curry paste
1/3 cup long-grain rice
400g can chopped tomatoes
1 tsp turmeric
2 cups water
400ml can coconut cream
juice of 1 lemon
1 tsp sea salt
chopped fresh coriander for garnish
DUMPLINGS:
400g fresh, boneless, white-fleshed fish
1 egg
1 tsp fennel seeds, toasted (or 1 tsp ground cumin)
small bunch coriander, chopped
1/2 tsp salt
METHOD:
Heat oil in a large heavy-based saucepan over medium heat. Saute onion until softened slightly.
Add red curry paste and rice. Cook for several minutes. Add tomato, turmeric and water. Bring to a boil and simmer for about 15 minutes.
Meanwhile, make fish dumplings. Cut fish into small chunks and place in a food processor fitted with an S blade.
Add remaining ingredients and process for 20-30 seconds until well combined.
When rice in soup is well cooked, add coconut cream. Bring to a low boil. Using a dessertspoon, scoop some of the fish mixture, squeeze it gently in the hand to form a dumpling and add to soup. They can be any shape but a consistent size is best. Continue making dumplings, adding to soup as you go, until all the fish mixture is used up. Add lemon juice and sea salt. Simmer for about 5 minutes until dumplings are just cooked.
Serve in individual bowls, garnished with coriander. Serves 4 - 6
Extracted with permission from Real Fresh Gluten-free Food by Anna and Roger Wilde, with photography by Daniel Allen, published by New Holland, $45.00.