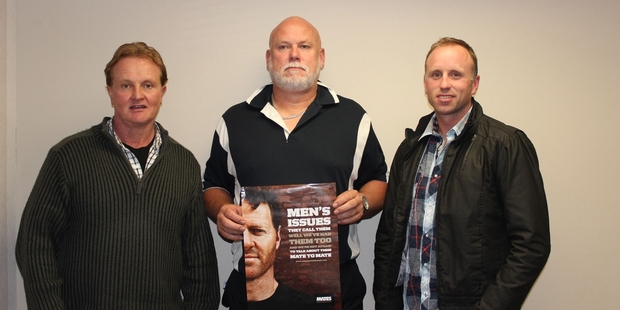 Support for men is spreading throughout Hamilton, with plans to open another MATES Mens Network centre to support men in the community.
One centre is already open in Hamilton, and has been running since April, with positive results so far.
Constable Paul Tierney from the Hamilton Offender Management Group ran a forum last week in conjunction with the MATES Network to kick off the fortnightly session that will be run by MATES. The forum aimed to get people talking about the issues in the community and ways to work through them, empowering the community, Mr Tierney said.
The initiative has slowly grown from the original forum type evening to its current stage where it will be held parallel with MATES Men's Network evenings, which give men a place to talk and share concerns to achieve a better community overall.
Joel, 39, said he heard about MATES through an ex partner.
"I've been coming to the MATES Western Community Centre meetings since the first one and find them very uplifting.
"I've got a lot of demons and visited many counsellors but I find it a lot easier here to open up, whether it be the environment or the people but it just is because I'm doing it for myself now.
"I walk away from here inspired to just try to be a better person. I also came here to find that person I didn't know I could be."
Michael, 29, said after many years of abuse and trauma the group has helped him find a way to help himself and others.
"I know I have a lot to offer but could have easily been cast aside instead here I feel heard, like I have a voice again similar to when I was influencing a criminal group, for me its about asking when's someone like me is on the edge what does the community prefer me doing - that or this? I refer to the Japanese General Sun Tzu about the art of war - one kind word can warm many winter months."
Chief executive of the MATES Mens Network Kerry Babbage said the outcome of the forum was fantastic, with over 100 people in attendance.
"The great thing was we had some really good speakers there and they were able to grab rapport with them and share with them.
"What was really cool was some of the community got up and spoke. The feeling in the room was so heavy, where men are able to feel empowered to say what they need to say."
The initiative has support from Hamilton City Council, local MPs, Police, WEL Energy Trust, and Sky City.
With a positive reaction so far, a second MATES centre on the eastern side of Hamilton should not be far off, Mr Babbage said.
Now stepping back from his involvement with the forum, Mr Tierney was touched by the evening.
"I have found it a humbling experience. Having something solid in place [before I left] was important."
MATES Waikato regional manager Mark Bell said though he hasn't known Mr Tierney for long, the feedback he had from people was positive. "They look up to him very much so, he was part of many of their stories."
Mr Tierney has recently moved to the offender management group, and said the group works to identify possible offenders and works with them to prevent offending in the future.
MATES Mens Network is looking for facilitators, those who will take charge and be the instigator of discussions each fortnight, and work full time at the centres. Funding is also needed. To contact the Mates Mens Network, call 0800 4MATES or go to www.mates.org.nz.