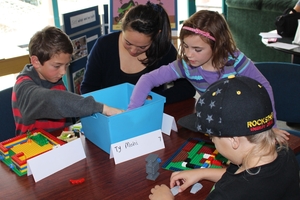 Hamilton children had fun these school holidays, and played for a good cause, with Habitat for Humanity.
Pukete's Neighbourhood house school holiday programme was one of the first groups to participate in Habitat For Humanity's Lego Build Challenge.
Habitats resource development manager Karlijn Nelissen says, the challenge is a national awareness campaign.
"Our aim is to educate young people and their families, in a fun way, about New Zealand housing issues while hopefully fuelling a passion for helping others that grows as they grow. We talk to children about the importance of a healthy, warm, and safe home, and how it affects things like health and education," she said.
"Then they get a chance to build a little house out of Lego, and tell us why they think it is a warm, safe and healthy home."
The Pukete Neighbourhood House kids got straight into the challenge and came up with some very creative models.
One seven-year-old boy built two fire pits in his home for warmth and a security robot for safety.
"All of the houses will be displayed on our website and then people can vote for their favourites, and the houses with the most votes win a prize." Nelissen says.